MOCM Artists 2023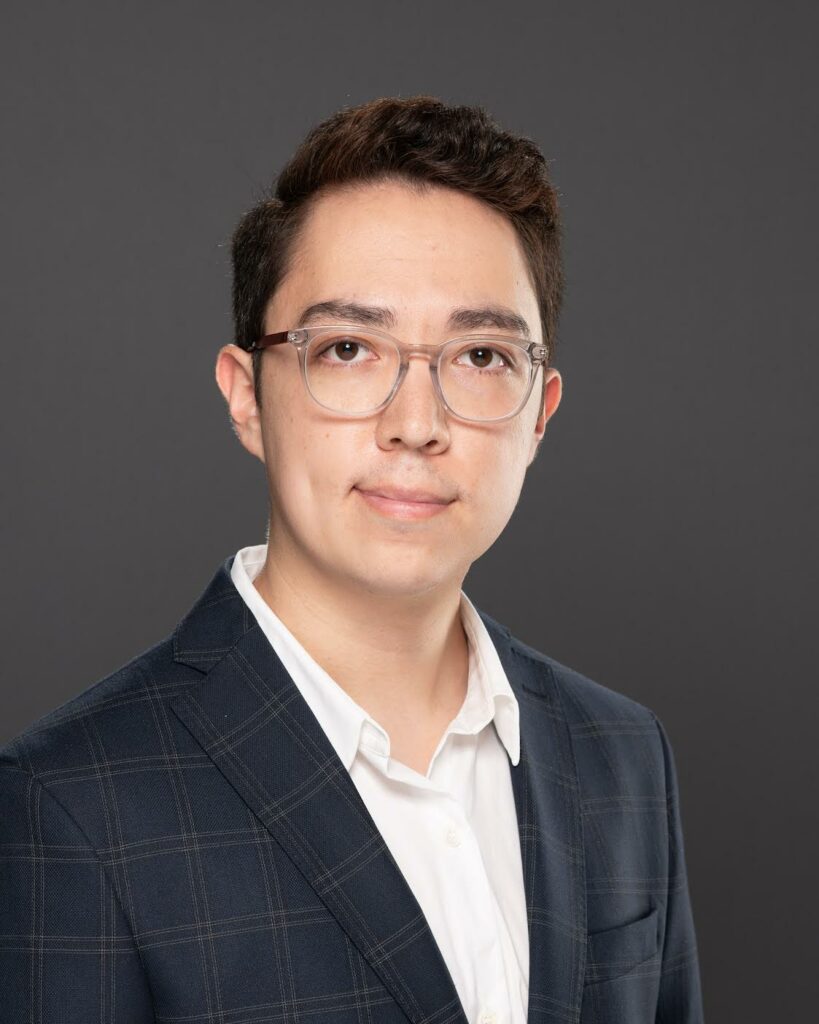 Alejandro Valdepeñas, viola
Originally from Toronto, Alejandro Valdepeñas enjoys a multi-faceted career as a violinist and violist. He joined the St. Louis Symphony Orchestra as Associate Principal Viola at the start of the 2022/2023 season.
Valdepeñas made his solo debut on violin at the age of 9 with the Toronto Symphony Orchestra and Sarah Chang. Recent engagements include performances and recordings with the Amici Chamber Ensemble and the Toronto Symphony Orchestra Chamber Soloists. He has spent
multiple summers as a violinist with the Santa Fe Opera and has also performed with the Calgary Philharmonic Orchestra.
In the summers, Valdepeñas has performed at the Aspen Music Festival and School and Norfolk Chamber Music Festival at Yale. His future summer engagements include performances at Santa Fe Chamber Music Festival.
Valdepeñas received his Bachelor of Music degree from the New England Conservatory studying with Paul Biss, and his Master of Music degree from Rice University studying with Paul Kantor.
Andrea Jarrett, violin
Named a 2009 Presidential Scholar in the Arts by the U.S. Department of Education, violinist Andrea Jarrett received her Master of Music Degree from the Shepherd School of Music at Rice University in May 2015. While obtaining her degree, Jarrett was a student of Kathleen Winkler and served as concertmaster of both the chamber and symphony orchestras. She received her Bachelor of Music Degree from the Juilliard School in 2013, where she studied with David Chan. Jarrett joined the second violin section of the St. Louis Symphony Orchestra in September 2015.
Prior to her appointment with the SLSO, Jarrett participated in the 2013 New York String Orchestra Seminar under the direction of Jaime Laredo. While attending Juilliard, Andrea gave the world premiere of composer Neil Rolnick's concerto for violin and electronics in November 2012, Gardening at Gropius House. In the same year, Jarrett served as concertmaster of the Juilliard Chamber Orchestra. Another highlight during her undergraduate years was her performance of the Mendelssohn Octet in the Chamber Music Society of Lincoln Center's Meet the Music! Concert Series. Jarrett was a member of the first YouTube Symphony Orchestra in 2009, with concerts in Carnegie Hall under the baton of Michael Tilson Thomas. A native midwesterner, Jarrett has performed as a soloist with the Dearborn, Birmingham-Bloomfield, Toledo, and Ann Arbor symphony orchestras.
During her high school years, Jarrett was a member of the Music Institute of Chicago's Academy program, where she studied with Almita and Roland Vamos. Jarrett received the Silver Award in Music/Violin from the National Foundation for Advancement in the Arts in January of 2009. Also an active chamber musician, Jarrett was a member of Quartet Polaris, Gold Medal Winners of the 2008 Fischoff National Chamber Music Competition, Junior Division. She performed with Quartet Polaris on NPR's From the Top. The quartet also performed in The Kennedy Center and Carnegie Weill Hall as part of an East Coast tour through the Music Institute of Chicago.
Jarrett's summer studies have brought her to many corners of the world. She attended the Taos School of Music in 2013, where she worked closely with the Borromeo and Brentano String Quartets to perform Beethoven's entire quartet cycle. In 2012, Jarrett traveled to Japan to attend the Pacific Music Festival, where she served as concertmaster under Fabio Luisi. Other festivals attended include Music Academy of the West, Spoleto Festival, Astona International Academy (Switzerland), Heifetz International Music Institute, and Interlochen Arts Camp. Since beginning her position in the SLSO, Andrea has served as Concertmaster of the Lakes Area Music Festival and has performed several seasons with the Sun Valley Summer Symphony.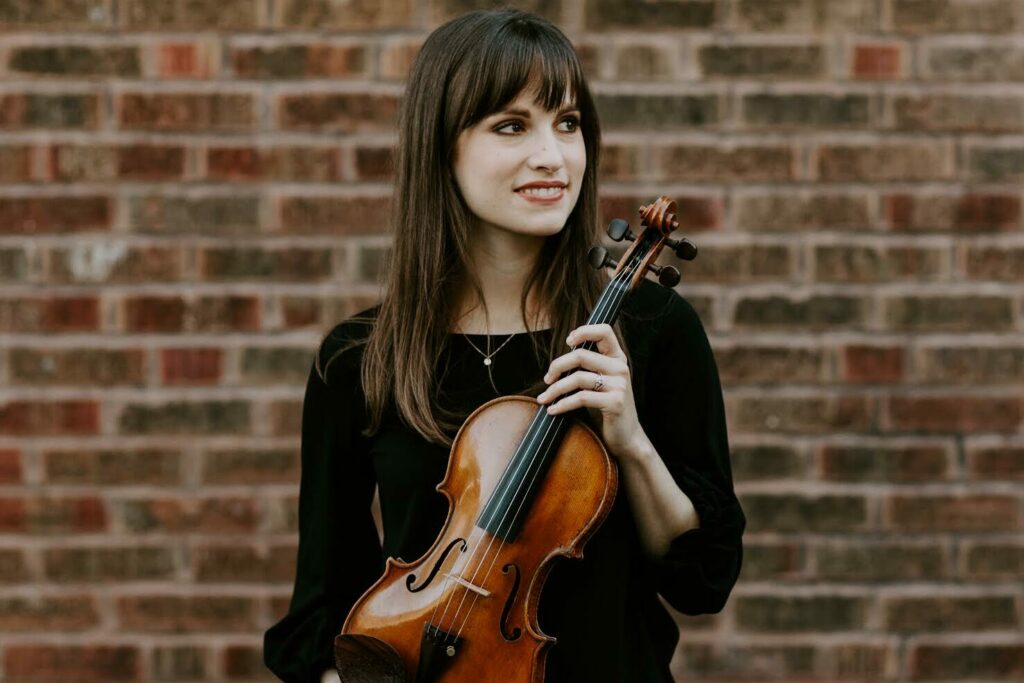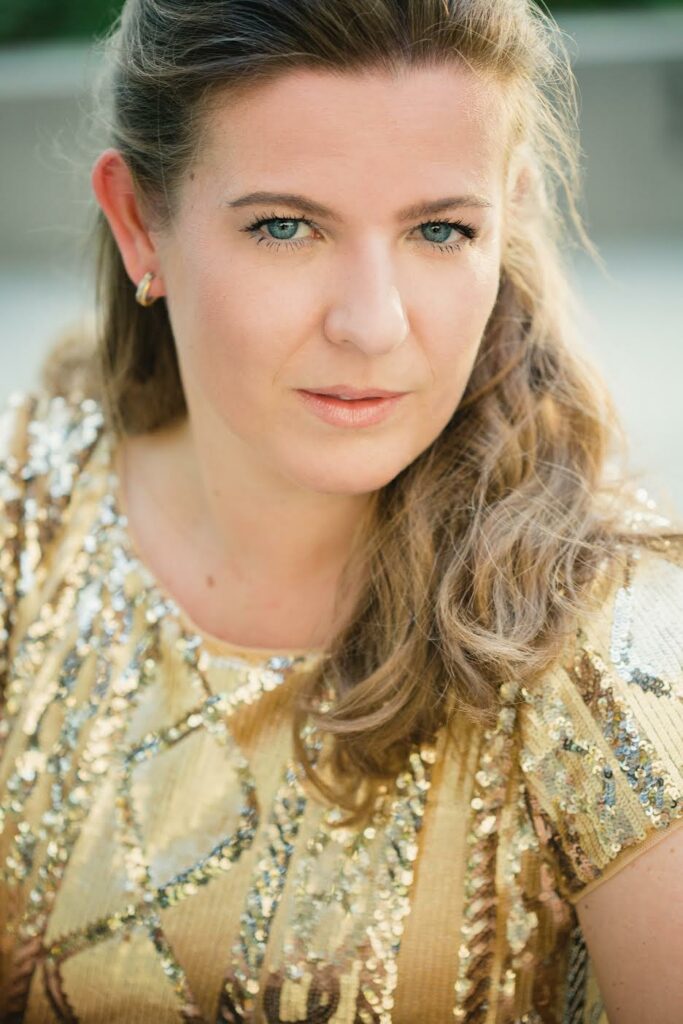 Benedetta Orsi, mezzo soprano
Italian mezzo soprano Benedetta Orsi, now resident in the United States, has been praised by Teresa Berganza as "perfect voice for belcanto". In February 2022 Benedetta received the Paul Harris Fellow Award in Rome, Italy, as one of the 14 most influential Italian excellences, and only woman, to spread the Italian culture and art abroad. Recently, she was selected by Florida Grand Opera to translate into Spanish the Italian comic opera Il Matrimonio Segreto by Domenico Cimarosa, for their Miami premier.
Mrs. Orsi is one of only a few contemporary mezzo sopranos to have performed all three of Donizetti's Tudor Operas: Jane Seymour in Anna Bolena, Elisabetta in Maria Stuarda and Sara in Roberto Devereux with Royal Opera Theater in Manchester, UK. Recent performances also include Adalgisa in Norma with Winter Opera St. Louis, the title role of Carmen with Winter Opera St. Louis, Amore Opera in New York, Mamma Lucia in Cavalleria Rusticana with the New Jersey Festival Orchestra, Ulrica in Un Ballo in Maschera with the Miami Lyric Opera and Maddalena in Rigoletto with Amore Opera.
Benedetta's performance credits include roles in Verdi Rigoletto, Falstaff, Trovatore, Bellini Norma and La Sonnambula, Rossini L'Italiana in Algeri and Il Turco in Italia and Massenet Werther. Along with concert appearances at Carnegie Hall in NYC and throughout Italy, Austria, England, United States and Spain, she has performed with the Arianna String Quartet, St. Louis Philharmonic Orchestra, Gateway Festival Orchestra, New Jersey Festival Orchestra, Boulder Symphony Orchestra, Washington University Symphony Orchestra, Modena Jupiter Orchestra and Orchestra Filarmonica Emiliana.
As a recording artist her first self-produced album, Christmas Around the World, won the double Silver Medal as Best Album and Best Female Vocalist at the Global Music Awards in Los Angeles. Her latest one, La Voix de l'amour, released in December 2019 for the International label Limen Music, won the Gold Medal as Best album. She is currently working on her third album, a collection of Italian arias and art songs for the Swiss recording label BAM International.
Future engagements: INcanto tour in Italy, France and USA, and several Lyric Galas in the Dominican Republic and USA.
Bjorn Ranheim, cello
Cellist Bjorn Ranheim was appointed to the St. Louis Symphony Orchestra in 2005 and is a Sun Valley Music Festival member in Idaho. He served as principal cellist with the Colorado Music Festival from 2006–2015 and has performed and toured with the orchestras of Cleveland, Atlanta, Detroit, and Baltimore.
Ranheim has been featured as a soloist on multiple occasions with the SLSO, New World Symphony, and Colorado Music Festival, as well as with the Monteux Festival Orchestra, St. Louis Philharmonic, Metropolitan Orchestra of St. Louis, Columbia Civic Orchestra, National Repertory Orchestra, and the Washington University Symphony Orchestra.
Ranheim has toured extensively in the United States, Europe, and Central America, actively performing in chamber music, with performances at Carnegie Hall, Boston's Gardner Museum, Teatro Nacional de Costa Rica, and the Guggenheim Museum in Bilbao, Spain. He has participated in the Isaac Stern Chamber Music Seminar, Costa Rica International Chamber Music Festival, Amelia Island Chamber Music Festival, Jackson Hole Chamber Music Festival, and Missouri Chamber Music Festival.
Ranheim is highly visible throughout the St. Louis region, presenting recitals, educational programs, and chamber music performances. In January 2020, he was featured alongside St. Louis Symphony Orchestra Artist-in-Residence, pianist Jean-Yves Thibaudet in Shostakovich's Piano Trio No. 2 as part of Washington University's Great Artist Series. He is a frequent recital partner of famed soprano Christine Brewer and is a core member of the Chamber Music Society of St. Louis. He was the cellist with Washington University's Eliot Piano Trio with St. Louis Symphony concertmaster David Halen and the late pianist Seth Carlin. Ranheim's recording of J.S. Bach's Suite No. 3 for Unaccompanied Cello was released on AAM Recordings in 2013.
He lives in the historic Shaw neighborhood of St. Louis with his wife, Dorie, their beautiful daughters, Inga and Frey, and their Hungarian Vizsla, Ginger.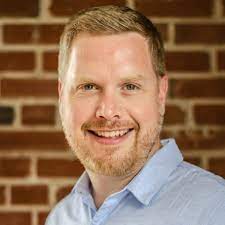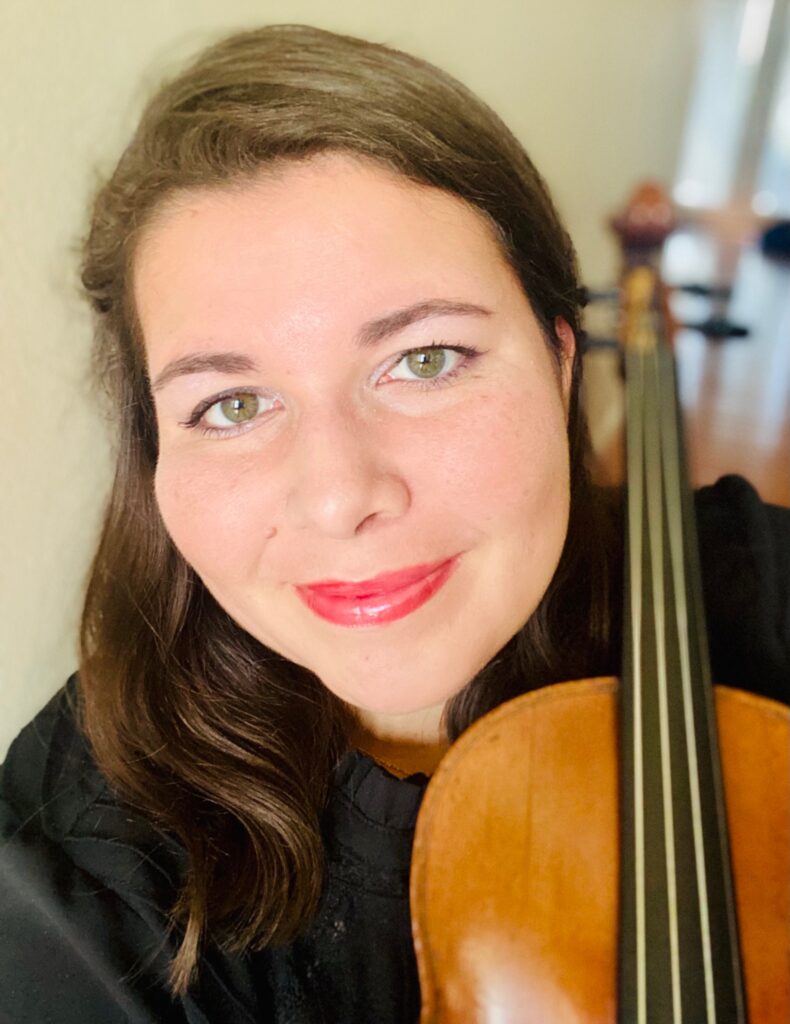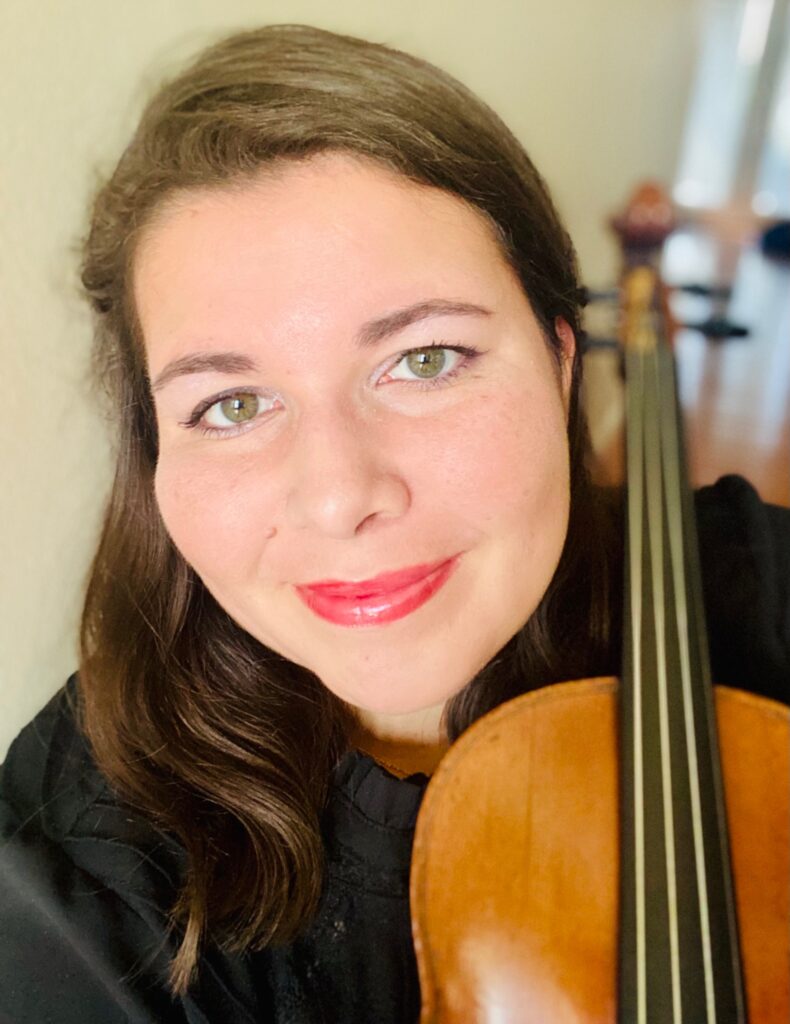 Carolina Neves, viola
Carolina Neves is a Brazilian-American violinist/violist living in the St. Louis area. Carolina began her studies at the age of 5 in Belém, Brazil. She studied at the Carlos Gomes Conservatory under Evgeni Ratchev and Nikholai Khit. At the age of 15, she immigrated to the United States with her family to pursue her violin studies. Carolina holds undergraduate and master degrees in violin performance from the University of Missouri-Columbia under the instruction of professor Eva Szekely. Carolina has performed in North and South America as a soloist, chamber and orchestral musician. She is principal violist of the MUNY, and regularly performs with the Metropolitan Orchestra of St. Louis, Paducah Symphony Orchestra, Illinois Symphony Orchestra, Union Avenue Opera, the Missouri Symphony, St. Louis Chamber Soloists, and Winter Opera St. Louis. Previous engagements include the Esterhazy String Quartet, Astraios String quartet, Odyssey Chamber Music Series, and Teatro da Paz Symphony Orchestra. Carolina also enjoys performing a broad range of musical styles. Most recent recording artists include Michael Bublé, Transiberian Orchestra, Video Games Live, the Eagles, The Who, The Beach Boys and others. 
Caroline Robinson, harp
Caroline has been sharing her passion and love for the harp since the start of her training in 2012. The unique sound and artistry has allowed her to actively perform for a variety of events and venues.
Caroline has built a strong classical background, base for her technique, and knowledge of repertoire for the harp. She was a student of Megan Stout, co-principal harpist of the St. Louis Symphony Orchestra. She is a graduate of the Jacobs School of Music at Indiana University with a Bachelor's degree in Harp Performance where she studied under the direction of Elżbieta Szmyt, Chairperson of the harp department. She is currently pursuing her Graduate degree at the University of Oklahoma under the direction of Gaye LeBlanc, principal harpist of the Oklahoma City Philharmonic.
Caroline is an active freelance harpist playing with orchestras, chamber ensembles, jazz bands, private events, and recording studios. She has played professionally as the principal harpist for Opera Edwardsville, Union Avenue Opera St. Louis, University of Oklahoma Orchestras, Norman Philharmonic, Tulsa Symphony, and the Oklahoma City Philharmonic.
Caroline is currently finishing her first year as a Graduate student at The University of Oklahoma and looks forward to coming back to St. Louis to play harp in the city and visit family.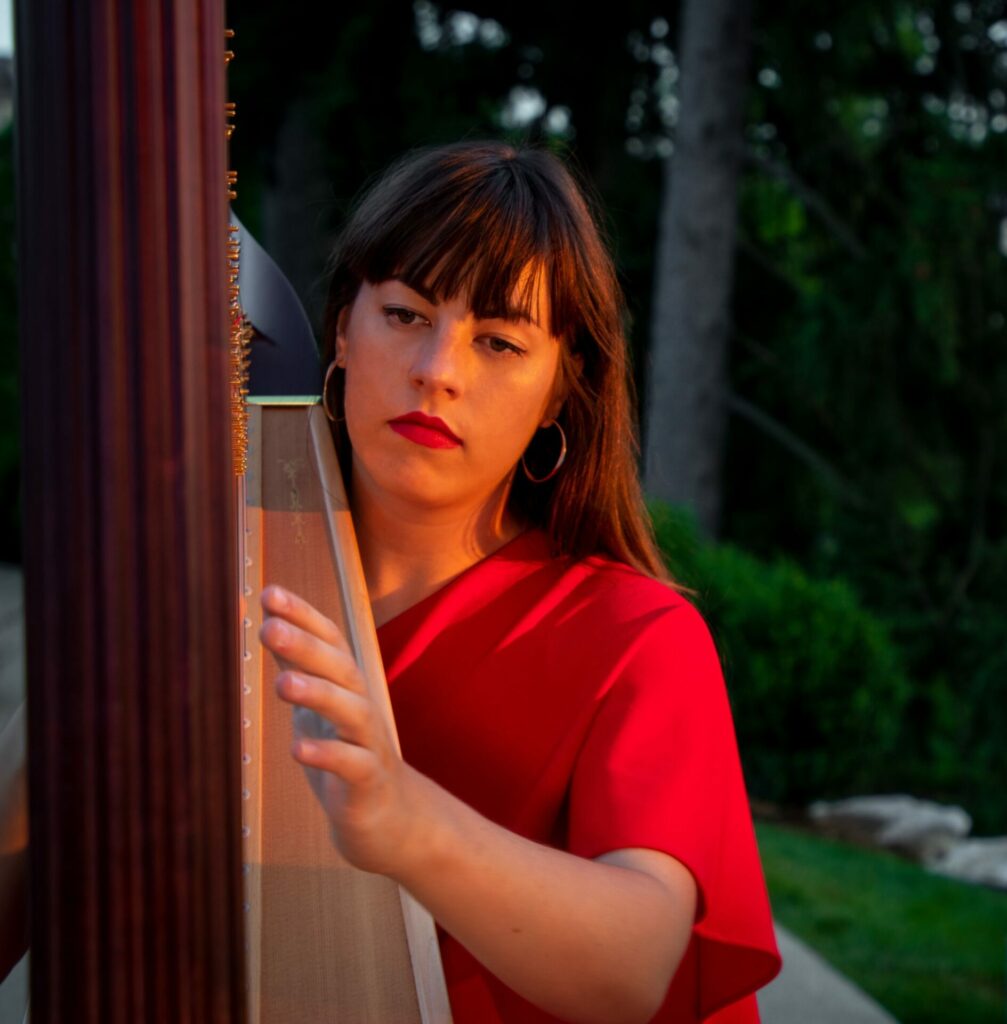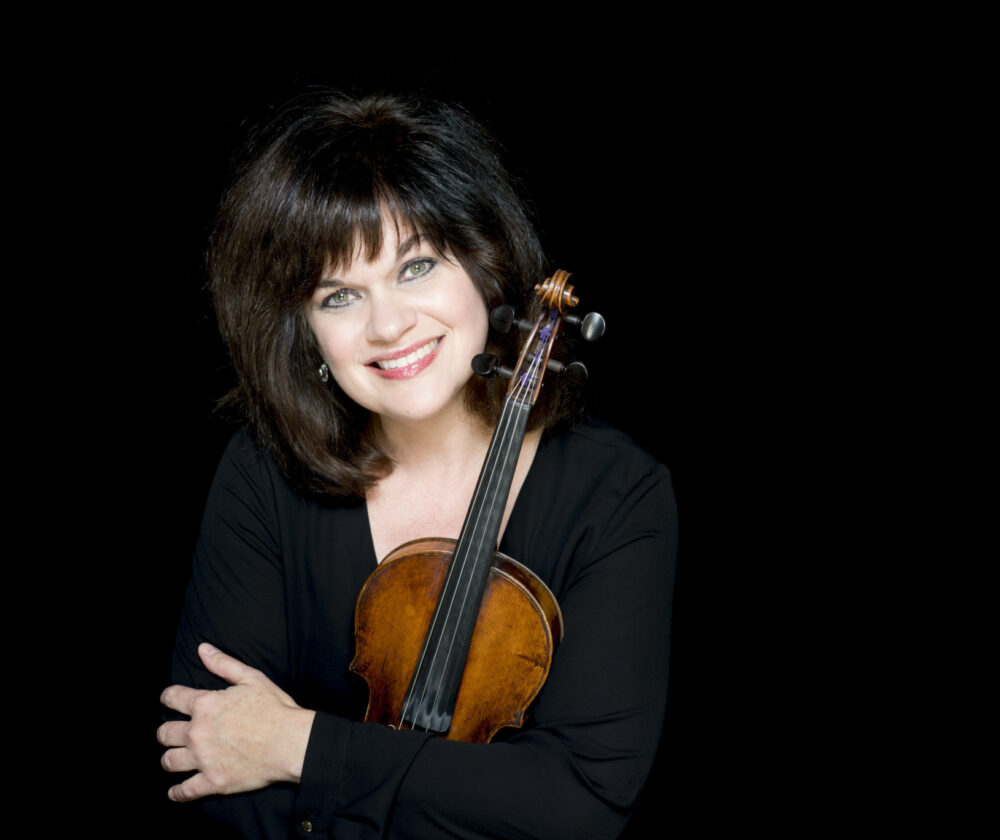 Catherine French, violin
Canadian violinist Catherine French, a member of the Boston Symphony Orchestra since 1994, has established herself as a versatile and accomplished soloist and chamber musician in addition to her distinguished orchestral career. Ms. French garnered the grand prize at the Canadian Music Competition, the CBC Radio Competition, and the National Competitive Festival of Music, Canada's three major music competitions. She has performed as a soloist with many leading Canadian orchestras and given recitals throughout North America and Argentina. Ms. French was featured with the Juilliard Orchestra and James de Preist, the Boston Pops and John Williams, and at Carnegie Hall in her debut with David Gilbert.
Lauded for her "superbly lyric" playing and her "amazing level of artistry" by Strad Magazine, Ms. French is a dedicated Calyx Piano Trio and Collage New Music member. Her avid interest in chamber music has led to performances at the Marlboro, Banff, Portland, Carolina, and Missouri chamber music festivals, quartet tours of Germany and China, and annual concerts as part of the Prelude series at Tanglewood and the Curtisville Consortium. Ms. French has recorded for Albany Records and is featured in Donald Sur's Berceuse for Violin and Piano with pianist Christopher Oldfather.
Catherine French began Suzuki violin at age four, then continued her studies under the esteemed Canadian pedagogue Dr. Lise Elson. Ms. French graduated from Indiana University with a Bachelor of Music degree and a Performer's Certificate, then earned a Master's degree from the Juilliard School. Her teachers were Miriam Fried, Felix Galimir, and Joel Smirnoff.
Chloé Thominet, violin
French born violist Chloé Thominet has performed as soloist, chamber musician and
orchestral player across the United States in major halls such as Alice Tully Hall, Carnegie Hall,
and Symphony Center of Chicago, as well as in her native France. She has collaborated with
renowned artists such as violists Victoria Chiang and Jeffrey Irvine, pianist Robert McDonald,
and violinist Itzhak Perlman, Robert Walters. Her interest in new music and desire to explore
new repertoire has led her to work with composers Sato Matsui, and Nokuthula Ngwenyama.
Some recent performance highlights include the recording of Tyshawn Sorrey' "Sentimental
Shard" as part of the Civic Orchestra of Chicago's series released on CSO TV and the premiere
of "Stardust" for English Horn and string quartet by Augusta Read Thomas in collaboration with
Nexus Chamber Music.
As an orchestral player, she has appeared with prestigious ensembles such as the Chicago
Symphony Orchestra, the Pittsburgh Symphony Orchestra, the Lyric Opera Orchestra, and the
Naples Philharmonic, and was the co-principal of the Chamber Orchestra of New York for
several seasons. She currently holds a temporary position with the Saint Louis Symphony
Orchestra.
She attended the Young Artist Program at the Cleveland Institute of Music where she
subsequently earned a Bachelor of Music degree under the tutelage of Jeffrey Irvine. She went
on to complete her Master of Music degree studying with Heidi Castleman and Misha Amory at
The Juilliard School as a recipient of a Kovner Fellowship. She holds a doctoral degree from the
Bienen School of Music at Northwestern University, where she studied with Helen Callus.
Chloé's instrument was provided by a scholarship grant from the Virtu Foundation.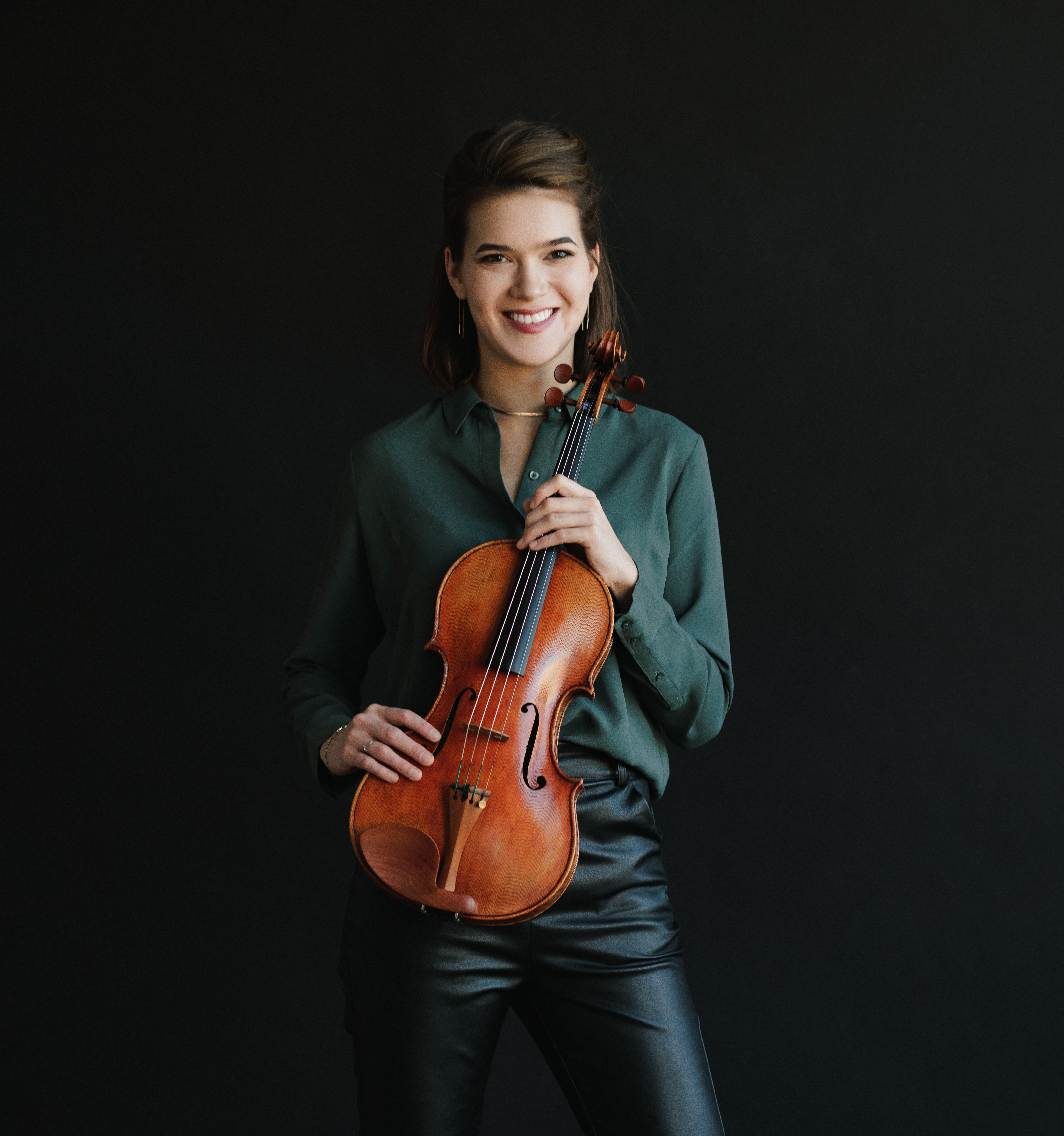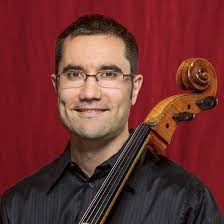 Davin Rubicz, cello
Cellist and educator Davin Rubicz began his studies in early childhood with the Suzuki method. After attending intensive summer music training programs like the Indiana String Academy, ENCORE School for Strings, and Music Academy of the West, he went to the Cleveland Institute of Music and Rice University, studying with Richard Aaron and Norman Fischer and completing a BM and MM in cello performance. During college, he spent his summers at the Spoleto Music Festival (Italy), Taos School of Music, and Aspen Music Festival.
As a performer, Davin held section cello positions with the Kansas City Symphony, Atlanta Symphony Orchestra, Saint Louis Symphony Orchestra and has also played with the Chicago Symphony Orchestra. He has been featured on concert series such as LaJolla SummerFest, Amelia Island Chamber Music Festival, Missouri Chamber Music Festival, Chamber Music Society of Saint Louis, and the Pulitzer Arts Foundation series.
As an educator, Rubicz maintains a private studio in St. Louis and has held teaching positions in the preparatory departments at the Cleveland Institute of Music and Rice University. He was on faculty at the Mercer School of Music, Southern Illinois University Edwardsville Suzuki program, and has also been invited to teach Richard Aaron's studio at the University of Michigan. In 2020, Davin became artistic director of the Community Music School Preparatory Program at Webster University.
Outside of music, Davin enjoys practicing yoga, growing vegetables, and riding his electric unicycle.
Eva Kozma, violin
A native of Romania, Eva Kozma began her tenure as the St. Louis Symphony Orchestra's Assistant Principal Second Violin in September 2004.
Studying violin in Romania and at McGill University, Kozma has performed with the Targu Mures Philharmonic and the Societe Philharmonique de Montreal. Additionally, she received a Fellowship at the Tanglewood Music Center and performed with the New World Symphony in Miami before her appointment with the SLSO.
With the SLSO, she considers participating in community and education programs one of the most valuable roles. She enthusiastically participates in SLSO appearances at St. Louis-area schools, hospitals, and other community spaces. As a soloist, she performed Ravel's Tzigane under David Robertson in 2015 and Hubay's Hejre Kati at the 2018 New Year's Eve concert.
Kozma is an enthusiastic chamber musician who performs with small ensembles around the St. Louis region. She is a member of the Chamber Music Society of St. Louis and has performed at the Missouri Chamber Music Festival and the Gesher Music Festival. She also enjoys performing at Westminster Presbyterian Church and teaching children in her neighborhood.
She lives in Olivette with her husband, a talented sculptor, and her three children, all of whom also play string instruments. She enjoys spending time with her family and staying active with outdoor activities, including hiking, biking, camping, and traveling to her native Romania.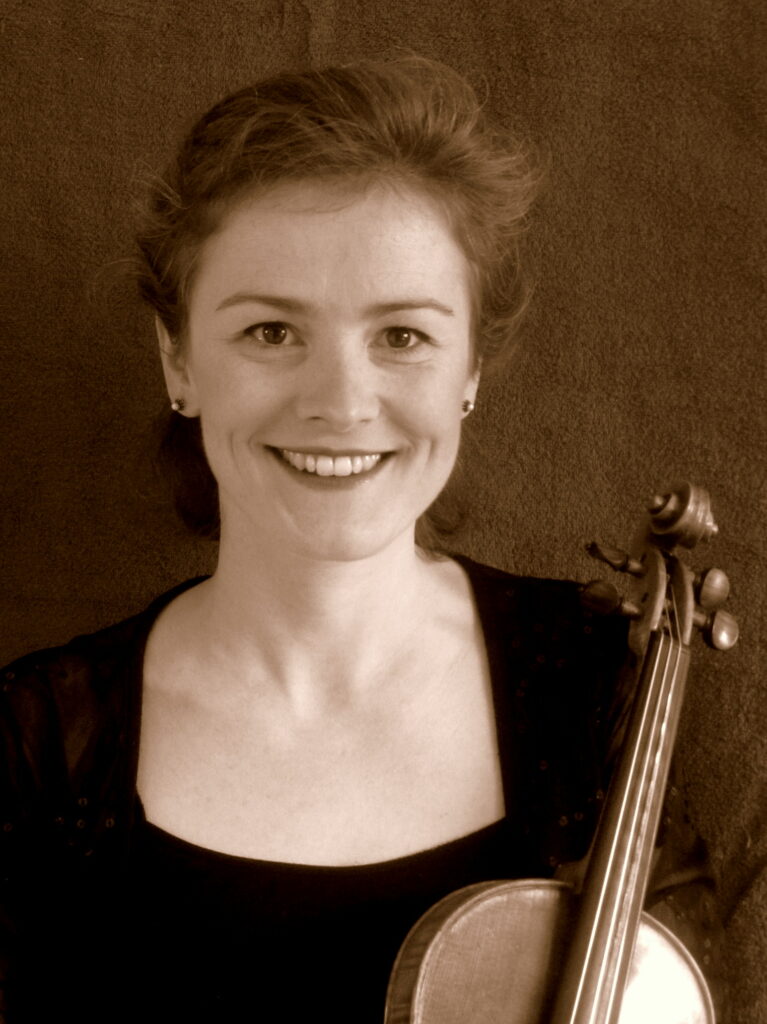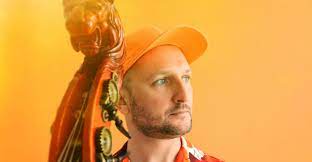 Florent Ghys, bass
French double bassist and composer Florent Ghys' music has been described as "highly
contrapuntal, intelligent and inventive…" (WQXR-FM), and a "thrilling breed of post-
minimal chamber music" (Time Out NY). His pieces "blend elements of minimalism, pop
music, and a dose of extravagant wit" (John Schaefer, WNYC) while his cat videos "have
attained viral fame" (Alex Ross, The New Yorker).
Ghys has written music for some of today's most influential ensembles and soloists, including
the Bang on a Can All-Stars, New Jersey Symphony Orchestra, So Percussion, Nick Photinos,
and Jack Quartet. His music has been performed at the Lincoln Center, BAM, the Barbican
Center, MIT, Sydney Opera House, and the Muziekgebouw.
Ghys holds a Maîtrise in ethnomusicology, a Diplôme d'Études Musicales in double bass
performance, a M.M. in music theory and composition, a Masters of Fine Arts, and a PhD in
music composition and technology from Princeton University.
Hannah Ji, violin
Violinist Hannah Ji joined the first violin section of the St. Louis Symphony Orchestra in 2020 after spending two seasons as a one-year replacement member. Ji's playing has been hailed by critics as "engaging, mature, well thought-out, and honed down to the finest details" (głos na Wieniawskiego, Polish Radio Journal). She holds a Bachelor of Music degree from Curtis Institute of Music, studying with the late Aaron Rosand, a Master of Music degree from The Juilliard School, studying with Ida Kavafian, and an Artist Diploma from The Colburn School, studying with Robert Lipsett. She began her musical studies at age seven in South Korea and previously attended Manhattan School of Music's Precollege Division, studying with Grigory Kalinovsky.
Ji's performances have been widely publicized as a soloist on NPR's "From the Top," Philadelphia's WHYY, Taos' KTAOS Solar Radio, and "Live from Lincoln Center" by PBS, which broadcast throughout North America. She performed in Canada Day concerts with Maestro Pinchas Zukerman in Centre National des Artes, with pianist Jeremy Denk for the non-profit organization "The Art of Giving Back," and a gala concert with cellist Yo-Yo Ma and the Silk Road Ensemble at Lincoln Center. Ji has also performed at The John F. Kennedy Center for the Performing Arts, The Metropolitan Museum of Art, David Geffen Hall, Carnegie Hall, Steinway Hall, Walt Disney Concert Hall, and A. Mickiewicz University Hall in Poland. She has also recently performed at the United States Embassy of Canada.
As a classical and contemporary chamber musician, Ji has collaborated with renowned groups and artists such as Jamie Laredo, Jennifer Koh, Roberto Díaz, The Borromeo String Quartet, The Calidore String Quartet, and Time for Three. She has worked with members of the Borromeo, Brentano, Shanghai, Emerson, Guarneri, and Orion String Quartets, respectively. Ji has actively participated in The Juilliard School's ChamberFest and Focus! Festival, which features U.S. and world premieres of works by composers around the world. She was also a contemporary ensemble artist at Atlantic Music Festival. As an orchestra musician, she served as Concertmaster and Principal Second with Symphony in C, Spoleto Festival USA, YMF Debut Orchestra, The Colburn School, The Juilliard School Orchestra, and Curtis Symphony Orchestra. She has participated in the Sarasota Music Festival, Music Academy of the West, Artosphere Festival Orchestra, Taos School of Music Festival, Bowdoin International Music Festival, Summit Music Festival, and the National Arts Centre's Young Artist Programme.
Additionally, Ji has held Artist Faculty positions at The Danbury Music Centre's Chamber Music Intensive, The Bronx Conservatory of Music, Manhattan in the Mountains, and The Curtis Institute's SummerFest Young Artists Program & Adult Chamber Music Program. She was a substitute faculty member at The Manhattan School of Music Precollege Division. Ji had a large studio in New York City, the students of which have been accepted to conservatories and summer festivals nationwide. She currently enjoys working as a mentor through the SLSO's Mentoring the Music: Peer to Peer program.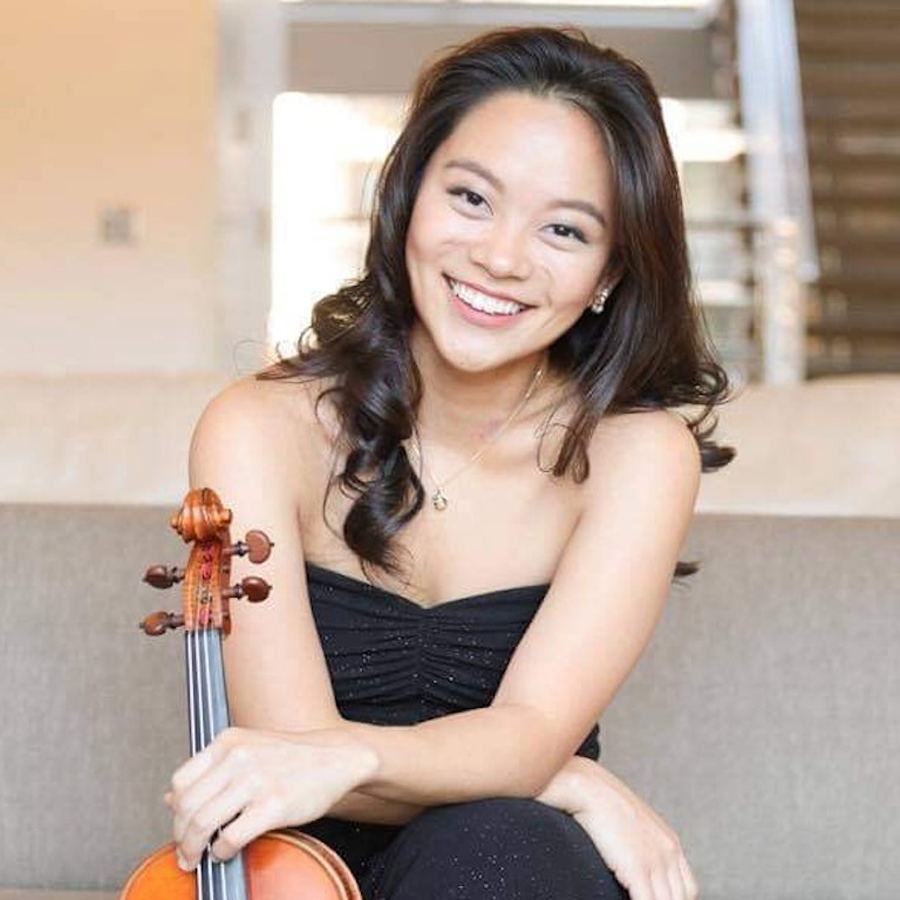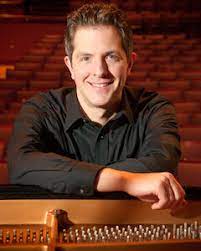 Hugh Hinton, piano
Hailed for his "aristocratic approach to music making" (Cleveland Plain Dealer) and called "an
exceptionally fine interpreter of contemporary music" (Boston Globe), pianist Hugh Hinton has
performed throughout the United States and abroad as a soloist, chamber musician, and
collaborative pianist. He has performed at New York's Merkin Hall, Jordan Hall, and Gardner
Museum in Boston, Phillips Collection (Washington, DC), and Flagler Museum (Palm Beach,
FL.) International appearances include Japan, Korea, Australia, Russia, Ukraine, Moldova,
England, Italy, and a tour of the Middle East (Saudi Arabia, Kuwait, Oman, and Syria) sponsored
by the United States Information Agency. He has appeared with the Phoenix, Honolulu (Hawaii),
and New Hampshire Symphonies, and with the Florida Philharmonic, under the batons of
conductors JoAnn Falletta, James Sedares, Derrick Inouye, and James Bolle. Hinton has
appeared at many summer music festivals, including performances at Tanglewood's Seiji
Ozawa Hall and at the Monadnock Festival in New Hampshire, where he performed Elliott
Carter's Piano Quintet. He has frequently performed chamber music with members of the
Boston Symphony Orchestra in Boston Symphony Orchestra Prelude and Community Chamber
Concerts and appeared with members of the St. Louis Symphony at the Missouri Chamber
Music Festival. A champion of contemporary music, Hinton performed music by John Cage
under the supervision of the composer and premiered compositions by Chinary Ung, Jeffrey
Mumford, Osvaldo Golijov, Augusta Read Thomas, and Pulitzer-winner Bernard Rands. A
special project was Stockhausen's Mantra, a landmark 70-minute work for two pianos and
electronics performed at the REDCAT recital hall in the Walt Disney Concert Hall in Los
Angeles. Hinton had a long musical relationship with Pulitzer-winner Donald Martino, working
closely with the composer on many pieces and recording Martino's 12 Preludes for Solo Piano
for New World Records. Hinton's recordings of contemporary and chamber music have been
released by the Naxos, Etcetera, CRI, New World, Newport Classics, and MMC labels, and
many can be found on YouTube and music streaming sites. A prizewinner in the Casadesus
(Cleveland) and Washington International Piano Competitions, Hinton has also received the
Arthur W Foote Award, and the Samuel and Esther Chester Performance Award and was
chosen to be a United States Information Service Artistic Ambassador.
Hinton has been a member of the imaginative contemporary music group Core Ensemble since
its founding in 1993. He has performed with Core Ensemble in all 50 US states. Core Ensemble
has pioneered programs that meld chamber music with theater, advancing a vision of social
justice. Core Ensemble programs highlight the music of African American, Latinx, Asian and
women composers. Core Ensemble has performed in schools and community centers
nationwide, bringing its music beyond the concert hall. Core Ensemble has also developed
community-based oral history music theater programs, bringing the stories of marginalized
communities, such as farmworkers and immigrants, to the stage.
A native of Louisiana, Hinton earned a Bachelor's degree from Harvard University and a
Master's and Doctor of Musical Arts degrees from New England Conservatory. He studied piano
with Lev Vlassenko, Mykola Suk, Russell Sherman, Wha-Kyung Byun, Jeaneane Dowis,
Jonathan Woods, and Constance Carroll. Hinton began lessons at age six, performed in public
at age eight, and soon appeared with local orchestras. While in high school, he performed in
youth concerts with the Boston and Dallas Symphonies and the New Orleans Philharmonic.
A passionate educator, Hinton has taught piano at the Longy School of Music of Bard College
since 1998 and is in demand as an adjudicator for master classes. Hinton also teaches
contemporary piano at Longy, introducing students to chance music, playing inside the piano,
graphic notation, and performing the music of John Cage. Hinton's piano students are frequently
accepted into DMA programs and can be found in professional careers throughout the music
field. In addition to concertizing and teaching, Hinton is active as a church musician, liturgical
pianist, and organist and can guide students interested in this area. Hinton is the music director
and organist at Plymouth Congregational Church (UCC) in Belmont, MA, and directs campus
music activities at Merrimack College (North Andover, MA.)
Jen Gartley, flute
Jennifer Gartley, flute, was born in Maine and grew up on the Isle of Palms, South Carolina along the barrier islands of the Carolina coast. She graduated with the Doctor of Musical Arts degree from the University of Illinois at Urbana-Champaign with research focusing on contemporary piccolo literature. She counts Jonathan Keeble, Mark Sparks, Katherine Kemler, and Tacy Edwards among her most influential teachers. As an orchestral musician, Jennifer has performed with St. Louis Symphony Orchestra, Opera Theatre of Saint Louis, Sinfonia da Camera, Colorado Music Festival, Bach Society of St. Louis, Fox Theater, Baton Rouge Symphony Orchestra, Illinois Symphony, and the Owensboro Symphony and served as the principal flutist for Winter Opera Saint Louis and Associate Faculty at McKendree University for over a decade. As a concerto soloist, she has been featured with orchestras in Missouri, Illinois, and Louisiana. She has been grateful to perform in masterclasses for William Bennett, Emmanuel Pahud, and Carol Wincenc.
Jennifer is the Artistic Director and founding flutist of Chamber Project Saint Louis, an ensemble dedicated to the performance and commissioning of new and diverse voices in the chamber music field presenting full seasons of adventurous programming in the St. Louis region. As a member of Premier Duo, STL with harpist Megan Stout, she has been featured on concert series across the Midwest. Jennifer holds teaching appointments at Washington University in St. Louis and Webster University.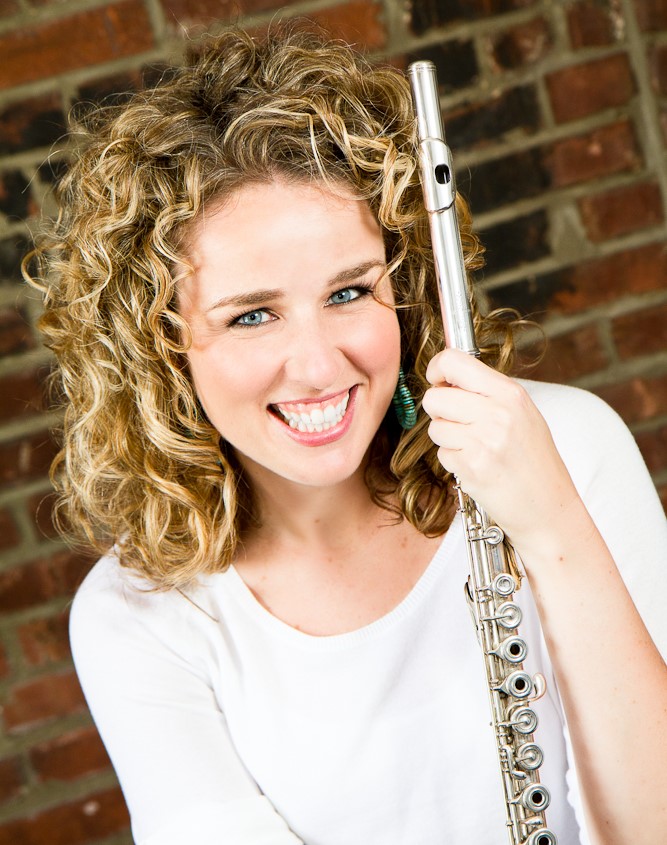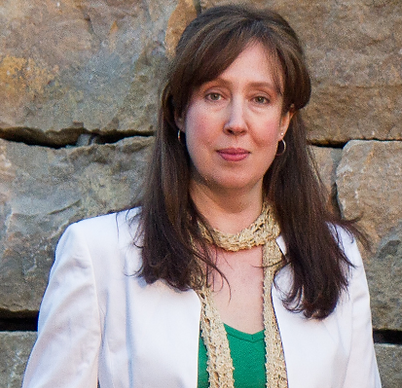 Jennifer Lucht, cello
Jennifer Lucht is a native of North Carolina. Praised for "superb" playing by the Boston Globe and "beautiful, finely detailed sound" by the Boston Herald, she has been a concert soloist with orchestras, including the Metamorphosen Chamber Orchestra and Vermont Symphony. As a chamber musician, she has been heard in chamber music performances at the Kennedy Center, Weill Recital Hall, Tanglewood, the Ravinia, and Bravo! Vail Festivals, and on the Greater Philadelphia Performing Artists Series and NPR's live broadcast "Performance Today."
Ms. Lucht is currently a member of the Calyx Piano Trio and performs with the Boston Pops Esplanade Orchestra in Boston and on tours throughout the US, Canada, and Japan. She is a Co-Director and founded the Carolina Chamber Music Festival in New Bern, North Carolina. She can be heard in chamber music recordings on the New World, Albany, and Archetype labels. Ms. Lucht received her Bachelor's and Master's degrees with a Performer's Certificate from Indiana University and continued her education with post-graduate studies at the New England Conservatory of Music. Her prominent teachers include Janos Starker, Tsuyoshi Tsutsumi, Laurence Lesser, Colin Carr, and Carter Brey.
Jennifer Nitchman, flute
Jennifer Nitchman has held the position of Second Flute with the St. Louis Symphony since
2003. An active teacher, she is on the faculty of Saint Louis University and has appeared as a
guest artist and clinician at numerous institutions and flute festivals as well as maintaining a
private flute studio in her home. Ms. Nitchman has also performed with the Boston Symphony
Orchestra, Baltimore Symphony Orchestra and Fort Wayne Philharmonic, as well as the Britt
and Brevard Music Festivals. She previously held the position of Assistant Principal Flute with
the United States Army Field Band in Washington, DC. Jennifer lives in St Louis Hills with her
husband and two cats. They are committed city residents who have renovated homes in two
different neighborhoods. She also serves on the board of Tenth Life Cat Rescue, which
prioritizes saving cats with special needs. You can follow the exploits of her blind cat Stevie on
Instagram at @steviepeeperscat. When she isn't playing the flute or trying to get you to adopt a cat, she enjoys cooking, obsessively reading cookbooks, trying to grow her own food and
traveling.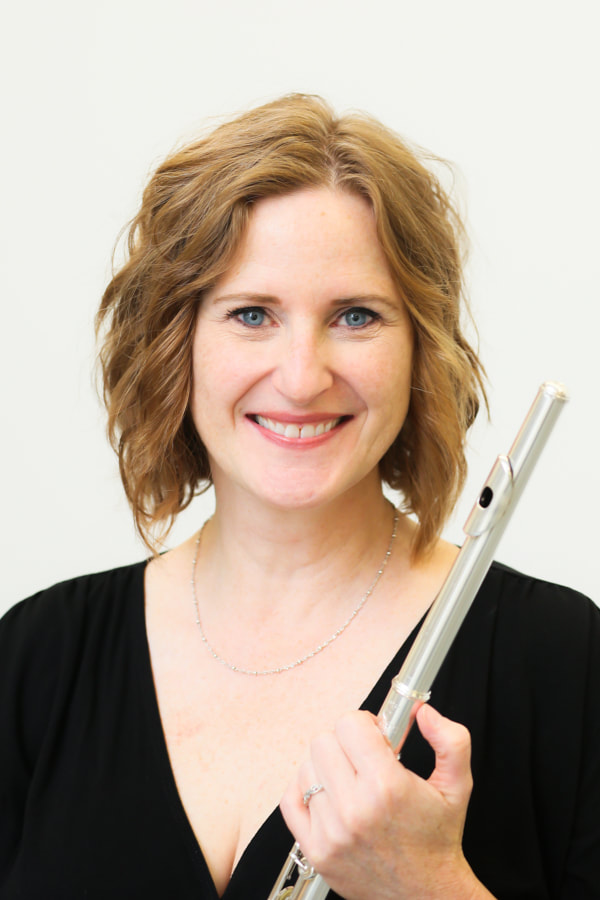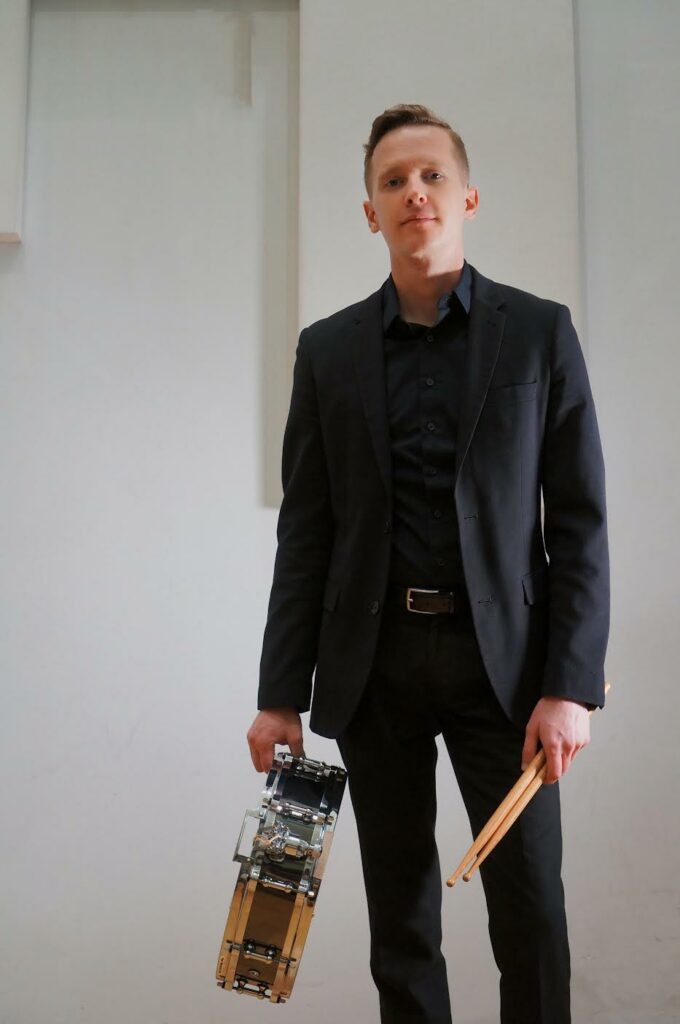 Kevin Ritenauer, percussion
Cleveland, Ohio native Kevin Ritenauer joined the St. Louis Symphony Orchestra as Associate Principal Timpanist/Section Percussionist in the Fall of 2022 following four seasons as a percussion fellow at the New World Symphony in Miami Beach. Mr. Ritenauer is an alumnus of the Manhattan School of Music, the Cleveland Institute of Music and has spent summers as a fellow at the Tanglewood Music Center as well as the Music Academy of the West.
Kyle Lombard, violin
Kyle Andre Lombard is a native of Kansas City, Missouri. He graduated with honors from
Indiana University and received his Masters's Degree from Yale University. Mr. Lombard enjoys
a variety of musical activities. As a chamber musician, Mr. Lombard has performed throughout
Europe, the Middle East, and the U.S. He has recently performed on chamber music programs
at Carnegie Hall and the Ravinia Festival's "Rising Stars" series. As part of the Ritz Chamber
Players, he featured in the University of Washington's esteemed "World Series of Chamber
Music, " including a radio broadcast on Seattle's KING FM classical music station. As a member
of the Goffriller Piano Trio, Mr. Lombard's performances were broadcast on Israeli Public Radio
during Isaac Stern's 3rd International Chamber Music Encounters in Jerusalem. He also
performed, as a member of the Gateways Chamber Music Ensemble, in a weeklong residency
with the Chicago Symphony Orchestra.
As a soloist, Mr. Lombard debuted with the Kansas City Symphony. At age sixteen, he was the
first area musician ever invited to perform with the ensemble. He has also concertized with the
Savannah Symphony and the Sphinx Symphony and recitals at MOJA Festival in Charleston,
S.C., and Southern Illinois University. Lombard was also featured in "Young Heroes of Music," a
live radio broadcast from Classic 99 FM of Saint Louis.
Mr. Lombard completed a two-year fellowship with the Saint Louis Symphony Orchestra in 2001.
He has been performing with the orchestra since the 1999 season. He proudly maintains
a regular presence with the SLSO Community Partnership Program, which brings symphony
musicians to many schools, churches, and community events around Saint Louis.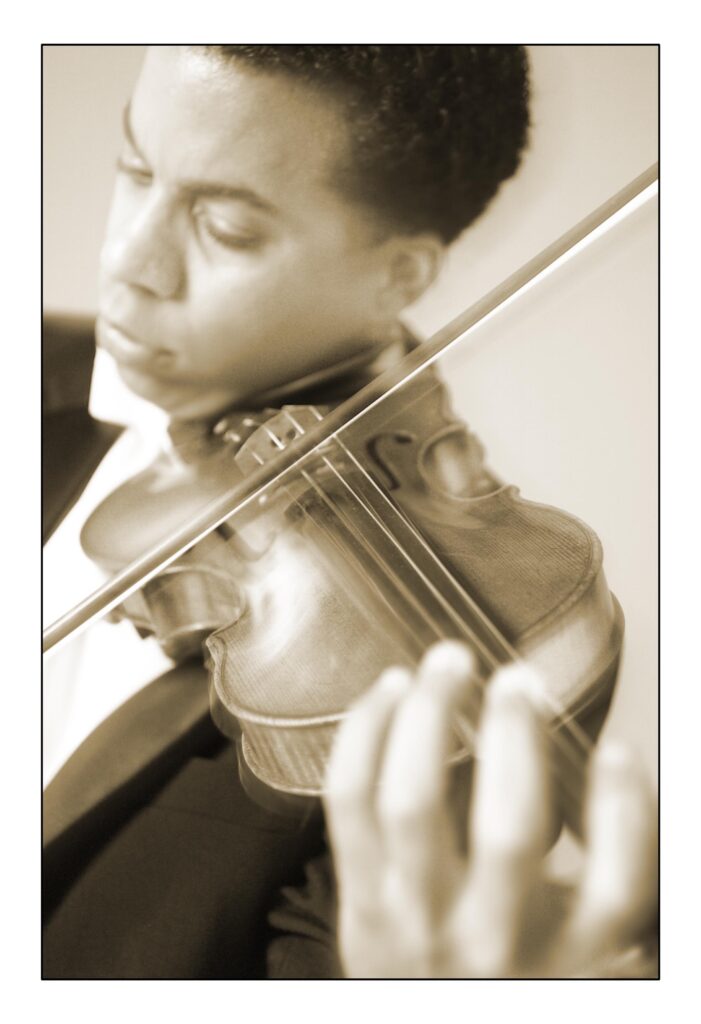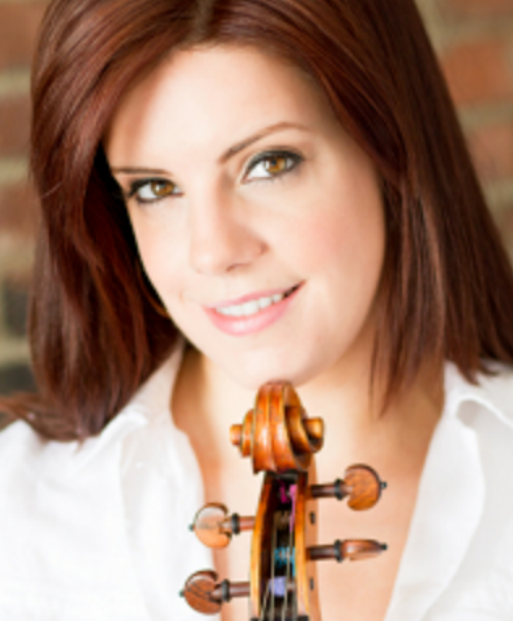 Laura Reycraft, viola
Laura Reycraft received her Bachelor of Music in Viola Performance from The Cleveland Institute of Music in 2003 as a student of Jeffrey Irvine and Lynne Ramsey. In 2005, she completed her studies at the University of Maryland, College Park where she worked with Daniel Foster and Michael Tree. Since moving to St. Louis in 2006, she has played regularly as a substitute musician with the St. Louis Symphony. Laura is one of the Artistic Directors of Chamber Project Saint Louis, an ensemble founded in 2007 with which she also performs chamber music regularly, one of her passions. She also holds the position of Violin Specialist at City Academy, a private independent elementary school in North St. Louis where she teaches violin group classes for 1st-6th grade students. In her free time, Laura savors time with her husband and three sons, and enjoys cooking, baking, traveling, and reading.
Megan Stout, harp
Megan appears regularly with the St. Louis Symphony and is passionate about chamber music, performing with the Chamber Music Society of St. Louis and Chamber Project St. Louis. She also plays with the major opera companies in St. Louis, including Opera Theatre, St. Louis, Winter Opera, and Union Avenue Opera. Megan was named the harpist for the MUNY orchestra in 2018. She performs with many ensembles throughout St. Louis and the area including the Fox Theatre, Bach Society of St. Louis, Masterworks Chorale (IL), and Metropolitan Orchestra of St. Louis, to name a few. She has also appeared with the Indianapolis Symphony and Philadelphia Orchestra.
Megan is on faculty at the Department of Music at Washington University in St. Louis and Webster University. In addition, she has a highly successful private teaching studio. Her students have achieved honors including principal harpists of the St. Louis Symphony Youth Orchestra and All State Orchestra, National Youth Orchestra, finalist for the Fox Teen Talent Competition, winner of local concerto competitions, top awards at the Mid America Music Festival Solo Competition, scholarships to Brevard Music Festival (NC), Indiana University, and Northwestern, and they have attended the Young Artists Harp Seminar (GA), Curtis Institute of Music Young Artist Summer Program (PA), and Summer Harp Academy (NC). She is a graduate with both a Bachelor and Master's Degree in Harp performance from the Jacobs School of Music at Indiana University where she studied with Susann McDonald.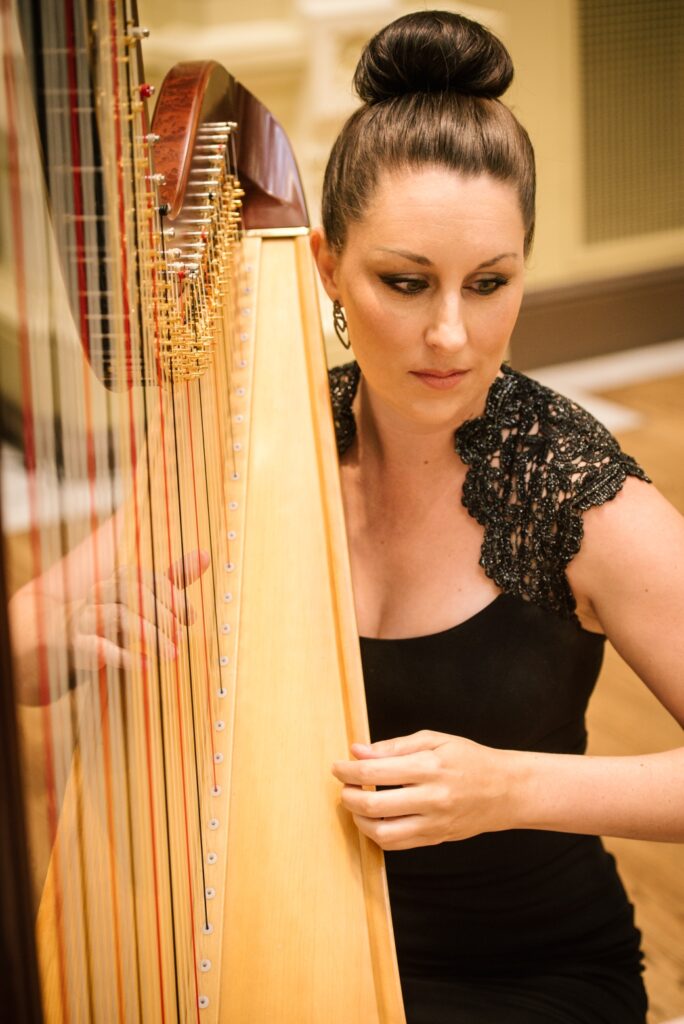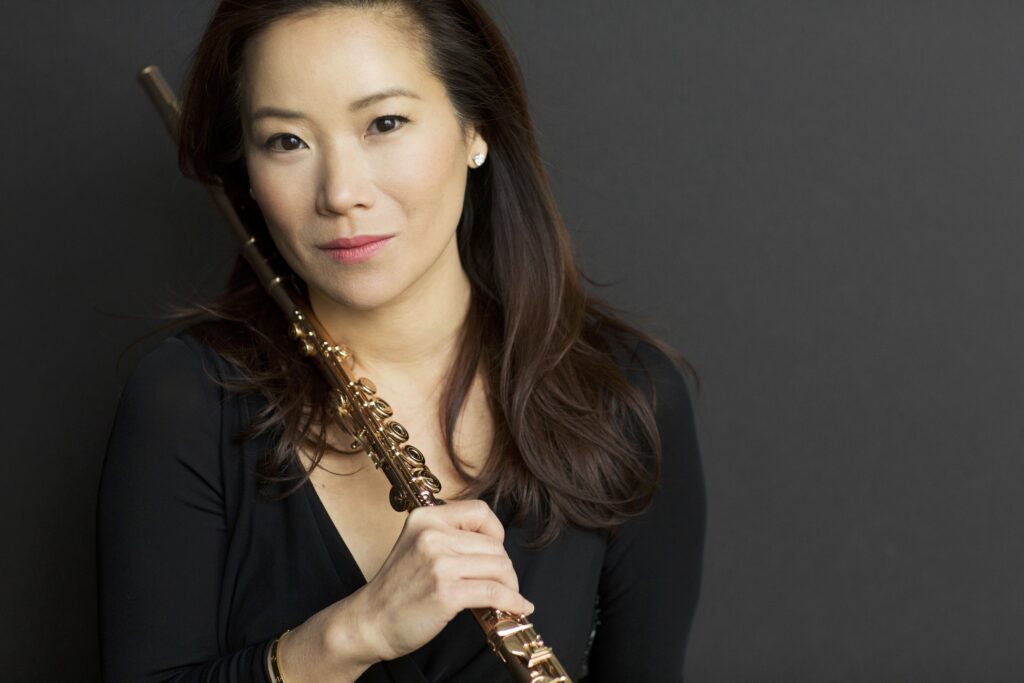 Nadine Hur, flute
Flutist Nadine Hur enjoys a remarkable career of great diversity and success as an orchestral performer, chamber musician, and soloist.
Ms. Hur is currently the Principal Flutist of the ProMusica Chamber Orchestra. As former Principal Flutist of the Knoxville Symphony Orchestra, she has also appeared as guest Associate Principal Flutist with the Boston Symphony (Tanglewood Music Festival) and with the Minnesota Orchestra. Ms. Hur has performed in numerous prestigious festivals, such as the Mostly Mozart Festival at Lincoln Center, the Bard Music Festival, the Norfolk Chamber Music Festival, the Lincoln Center Outdoors Concert Series, as well as the Embassy Series in Washington D.C., and the Chautauqua Institution.
Ms. Hur is a founding member of the Zephyros Woodwind Quintet, the first woodwind quintet to win both the First Prize and the Grand Prize of the Fischoff National Chamber Music Competition. The Zephyros Quintet subsequently toured the United States extensively under MCM Artists Management.
Ms. Hur began her solo career as a prize winner of the First Japan Flute Convention Competition at the age of 9 and made her concert debut with the Honolulu Symphony at age 11. In addition to the Knoxville Symphony, she has also appeared as a soloist with the Korean Broadcast Symphony (National Symphony), Seoul Philharmonic, Knoxville Symphony and the ProMuscia Chamber Orchestra.
She is a graduate of the Curtis School of Music (Bachelor of Music) and The Juilliard School (Master of Music and Professional Studies), where she studied with Jeffrey Khaner, Julius Baker, and Jeanne Baxtresser.
Ms. Hur enjoys teaching young students, and many have gone on to further their studies at leading universities and conservatories in the United States. Ms. Hur is in continued demand as a guest Masterclass Presenter and Lecturer.
Ms. Hur currently makes her home in St. Louis with her husband, David Kim (Assistant Principal Cellist, St. Louis Symphony), and her son, Alexander.
Nina Ferrigno, piano
Nina Ferrigno, described by the St. Louis Post Dispatch as "a magnificent pianist," is a collaborative artist at home in a multitude of diverse musical settings. Her playing is said to be, "…always precise with superb accentuation and warmth of feeling…". Nina is a founding member of the Boston-based Calyx Piano Trio which excites audiences throughout the United States with expressive ensemble playing and brilliant virtuosity. She has been a featured soloist with such ensembles as the St. Louis Symphony Orchestra, Boston Pops, and the Boston Modern Orchestra Project (BMOP). Recent orchestral keyboard appearances include those with the Chicago Symphony and St. Louis Symphony.
Her festival appearances include those at Tanglewood with members of the Boston Symphony, Banff, Norfolk, and the Skaneateles Festival. She also appears regularly at the Carolina Chamber Music Festival and Missouri Chamber Music Festival where the Calyx Piano Trio holds residencies. Ms. Ferrigno is a graduate of New England Conservatory of Music, where she received degrees with distinction. She is especially committed to bringing classical music to new audiences and expanding the repertoire by working with organizations including Chamber Music America and the Barlow Foundation to commission and perform new works in a variety of settings. The New Music Connoisseur has said of her, "pianist Nina Ferrigno [brings] out the inherent horizontal logic…all the while imparting sonic beauty from end to end." Nina is a Founder and Director of the Missouri Chamber Music Festival, now in its 13th Season, in St. Louis. She is on the teaching faculty of Washington University and Webster University in St. Louis.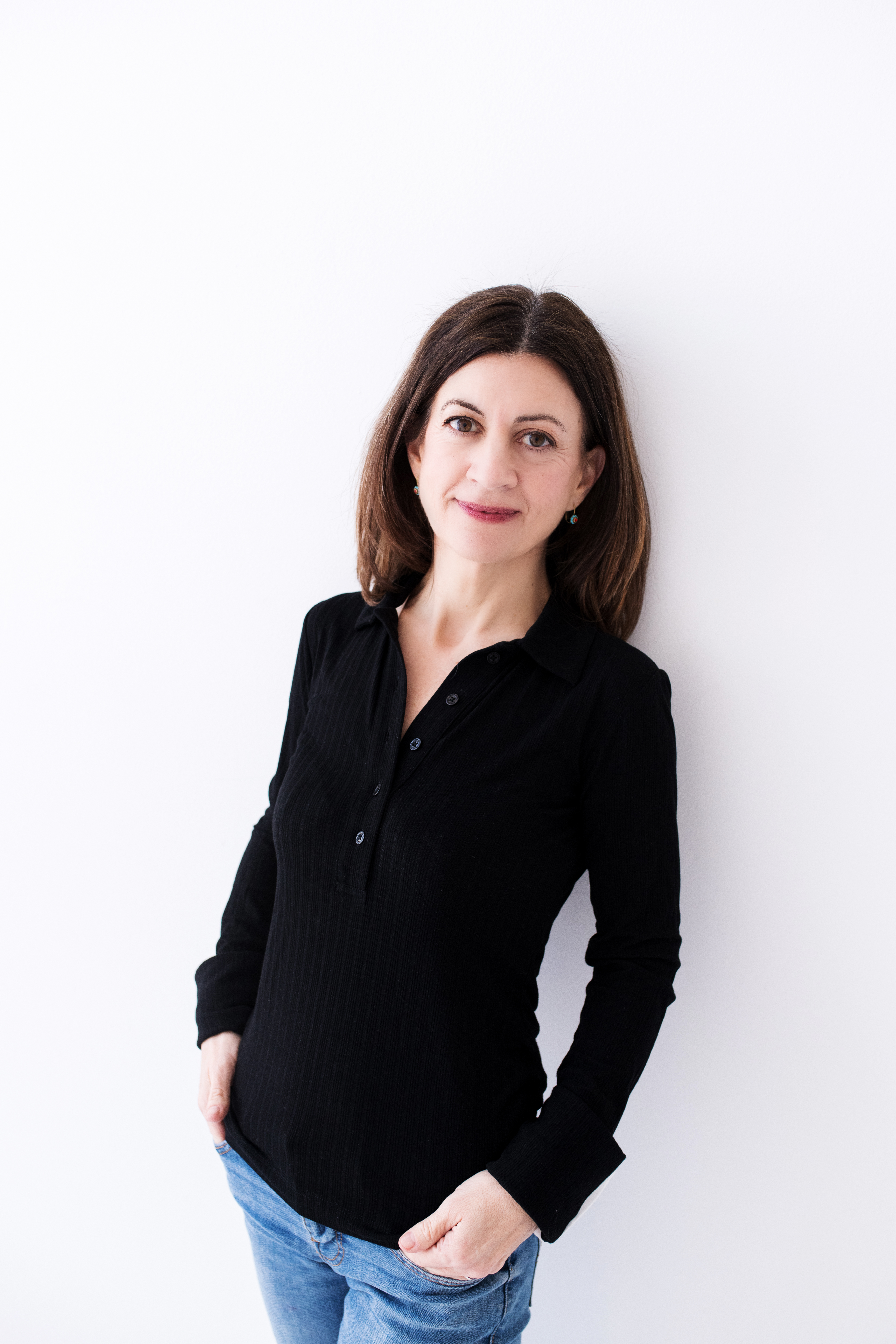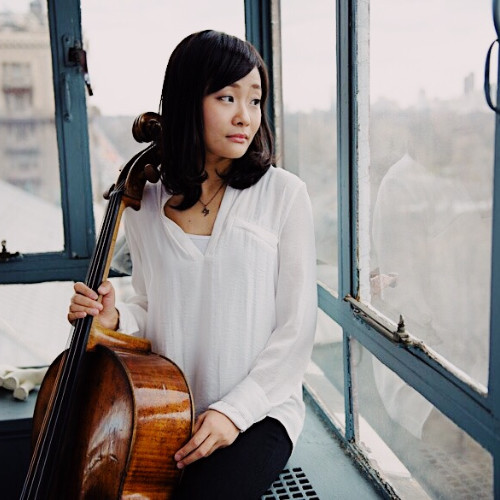 Yin Xiong, cello
Music Director David Robertson appointed Cellist Yin Xiong to the cello section of the St. Louis Symphony Orchestra at the start of the 2016/2017 season. Yin was awarded notable prestigious prizes from an early age, including the 4th International Tchaikovsky Competition for Young Musicians and top prizes at the 4th and 5th National Cello Competition of China. She won the Hong Kong Academy for Performing Arts concerto competition for an unprecedented five consecutive years. Yin debuted with the Hong Kong Philharmonic Orchestra as a soloist at age 17 under conductor Edo de Waart. She has also collaborated with conductors János Fürst, François-Xavier Roth, and Alexander Shelley.
Her parents – both professional cellists – strongly influenced Yin. As a member of the Academy String Quartet, she represented the Hong Kong Academy for Performing Arts and regularly gave concerts in Asia and Europe. As part of the Hong Kong-based cello ensemble, Cellistra Yin presented concerts and community engagement activities throughout Asia. She was the founding cellist of the Hsin Trio, with whom she gave the American debut of the Toshio Hosokawa's Piano Trio, was featured in the Juilliard Open Studio, and gave concerts across the United States and China.
As an orchestral musician, Yin received her first job at the age of 20, joining the Hong Kong Sinfonietta and performing regularly with the Hong Kong Philharmonic Orchestra. Yin has also served as the principal cellist of the Hong Kong Academy Orchestra, and the Oberlin Orchestra, and was co-principal of the Juilliard Orchestra. She was the principal cellist of the Pacific Music Festival from 2006 to 2009, where she had the privilege to work with conductors Valery Gergiev, Riccardo Muti, Christoph Eschenbach, and Michael Tilson Thomas.
Yin was a fellowship student at the Aspen Music Festival and School, where she was part of the Finckel–Wu Han Chamber Music Studio Program. Other festivals include the Kronberg Academy in Germany, Kneisel Hall, Banff Chamber Music Residency, and the Taos School of Music.
As a dedicated music educator and advocator, Yin was a faculty member of the Hong Kong Academy for Performing Arts, Macau Youth Orchestra. She was also a teaching assistant for Professor Darrett Adkins at the Oberlin Conservatory.
Born in Shanghai, China, Yin attended the Shanghai Conservatory and the Hong Kong Academy for Performing Arts on a full scholarship to study with Professor Ray Wang. She holds a Professional Diploma With Distinction from the Hong Kong Academy for Performing Arts and an Artist Diploma from the Oberlin Conservatory. Yin recently graduated from the accelerated Bachelor's and Master of Music program at the Juilliard School, where she studied with Darrett Adkins and Joel Krosnick. She took secondary lessons with Catharina Meints at the Oberlin Conservatory and Phoebe Carrai at the Juilliard School. Besides playing the cello, Yin also enjoys playing the baroque cello and viola da gamba.