Adult Chamber Music Intensive
July 31 – August 5, 2023
application deadline extended: June 2, 2023!
Individuals and pre-formed groups are both encouraged to apply.
---
Be part of a great chamber music community with local performers and teachers!
The Adult Chamber Music Intensive places adult instrumentalists in chamber ensembles of various sizes and instrumentation to work with faculty players and coaches. The collaborative faculty include notable chamber musicians from across the country.

Over six days (July 31 to Aug 5) at the Community Music School of Webster University, participants will experience in-person rehearsals, coachings, readings, and faculty presentations.
Participants must be Intermediate and Advanced instrumentalists ages 21 and up and are encouraged to learn parts in advance of the Intensive.
---
Location & Dates
When: July 31 – August 5, 2023
Where: Community Music School Center on the Campus of Webster University
(Housing at Webster University available for an extra charge)
Tuition
$375
Need-based scholarships are available.
What to Expect
Adult instrumentalists will be placed in chamber ensembles of various sizes and instrumentation and rehearse an assigned piece of chamber music with their coach for a series of sessions throughout the workshop. At the end, the ensembles perform. The workshop experience also includes group readings, master classes, faculty presentations, and casual concerts.
Repertoire & Schedule
Individuals are assigned groups and repertoire six to eight weeks in advance of the workshop. Assignments are based on playing level and prior chamber music experience. Repertoire requests will be granted when possible, and ensemble requests are also accepted. All participants are encouraged to learn their parts in advance of the workshop.
Activities and presentations are scheduled throughout the day. Participants are encouraged to attend as much as they can. Four group coaching sessions with your assigned group and repertoire are required, with schedules worked around players' and coaches' availability.
See Sample ACMI Schedule: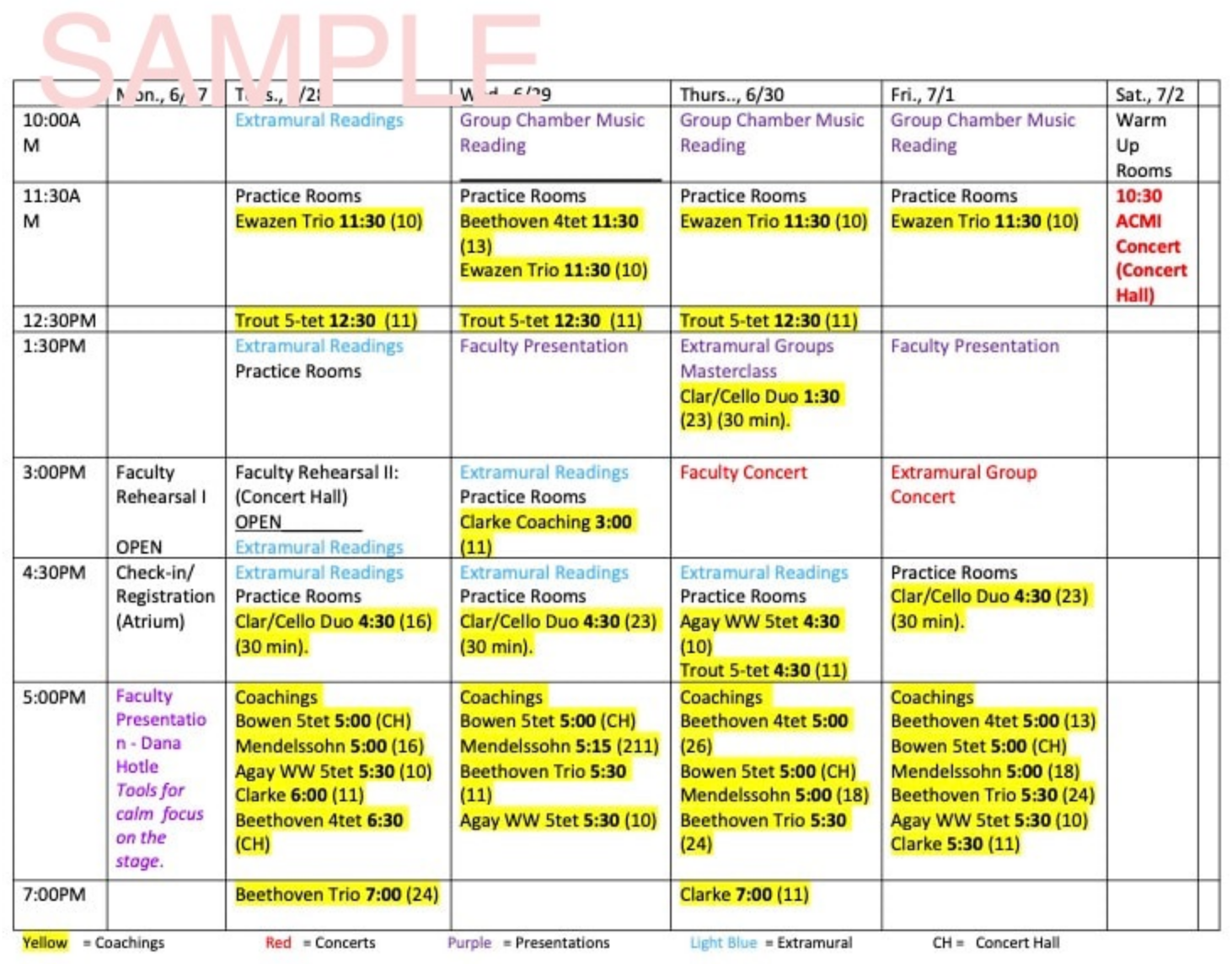 Past ACMI Faculty
Andrews Cuneo, bassoon
Felicia Foland, bassoon
Melissa Brooks, cello
David Kim, cello
Ken Kulosa, cello
Alvin McCall, cello
Catherine Lehr Ramos, cello
Jennifer Lucht, cello
Bjorn Ranheim, cello
Scott Andrews, clarinet
Dana Hotle, clarinet
Jennifer Nitchman, flute
Thomas Jostlein, french horn
Nina Ferrigno, piano
Ruth Price, piano
Vera Parkin, piano
Patti Wolff, piano
Mike Chen, viola
Shannon Williams, viola
Chris Tantillo, viola
Heidi Harris, violin
Eva Kozma, violin
Kyle Lombard, violin
​Matt Pickart, violin
Wendy Rosen, violin
Angie Smart, violin
Shawn Weil, violin