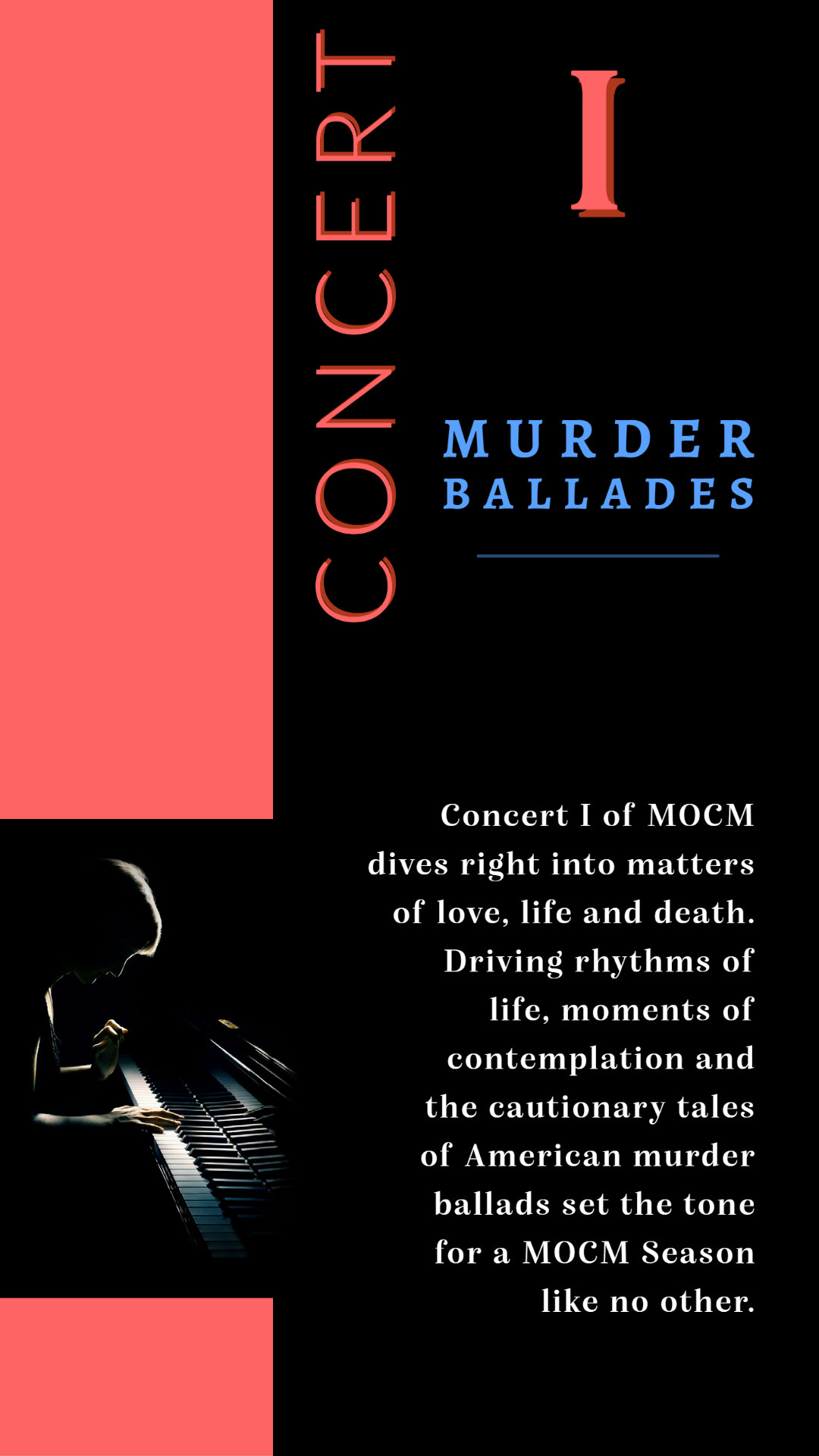 ---
The Calyx Piano Trio
Catherine French, violin
Jennifer Lucht, cello
Nina Ferrigno, piano
---
Three Divertimenti for String Quartet
I. March. Allegro maestoso
II. Waltz. Allegretto
III. Burlesque. Presto
Hannah Ji, Eva Kozma, violins
Alejandro Valdepeñas, viola
Yin Xiong, cello
* intermission *
Hannah Ji, Eva Kozma, violins
Alejandro Valdepeñas, viola
Yin Xiong, cello
---
I. Omie Wise
II. Young Emily
III. Dark Holler
IV. Wave the Sea
V. Brushy Fork
VI. Pretty Polly
VII. Tears for Sister Polly
Jennifer Nitchman, flute
Linda Phipps, clarinet
Hannah Ji, violin
Yin Xiong, cello
Kevin Ritenauer, percussion
Nina Ferrigno, piano
---

---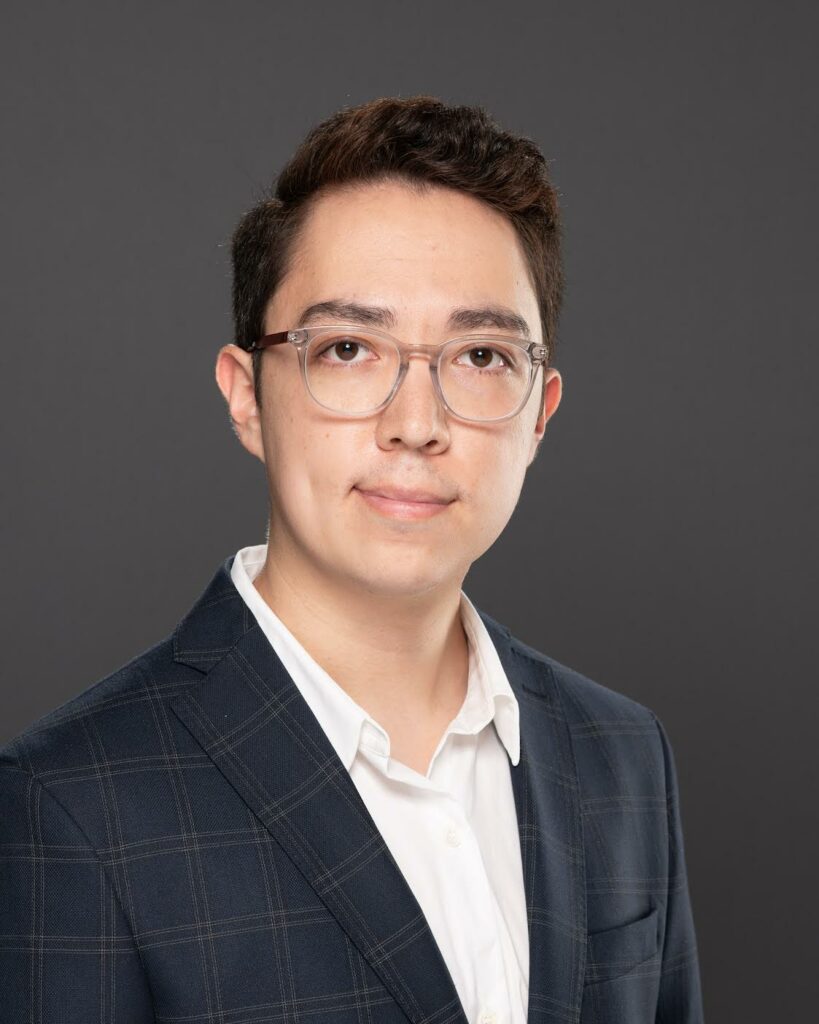 Originally from Toronto, Alejandro Valdepeñas enjoys a multi-faceted career as a violinist and violist. He joined the St. Louis Symphony Orchestra as Associate Principal Viola at the start of the 2022/2023 season.
Valdepeñas made his solo debut on violin at the age of 9 with the Toronto Symphony Orchestra and Sarah Chang. Recent engagements include performances and recordings with the Amici Chamber Ensemble and the Toronto Symphony Orchestra Chamber Soloists. He has spent multiple summers as a violinist with the Santa Fe Opera and has also performed with the Calgary Philharmonic Orchestra.
In the summers, Valdepeñas has performed at the Aspen Music Festival and School and Norfolk Chamber Music Festival at Yale. His future summer engagements include performances at Santa Fe Chamber Music Festival.
Valdepeñas received his Bachelor of Music degree from the New England Conservatory studying with Paul Biss, and his Master of Music degree from Rice University studying with Paul Kantor.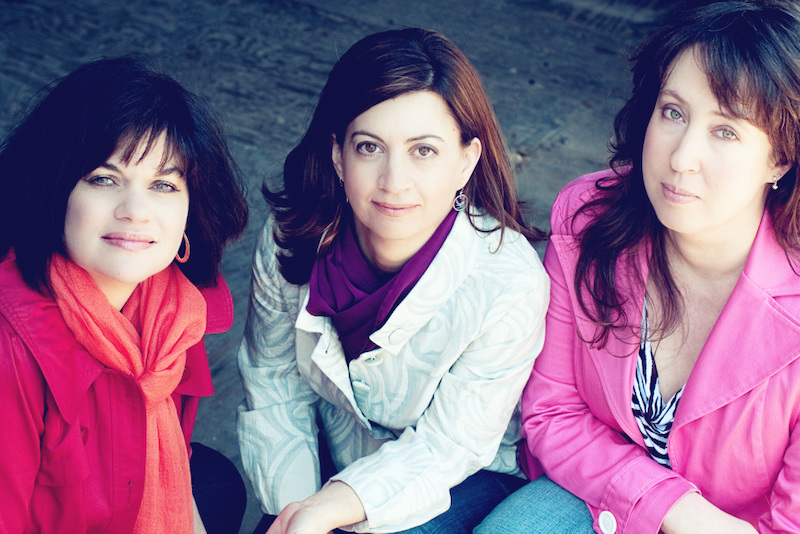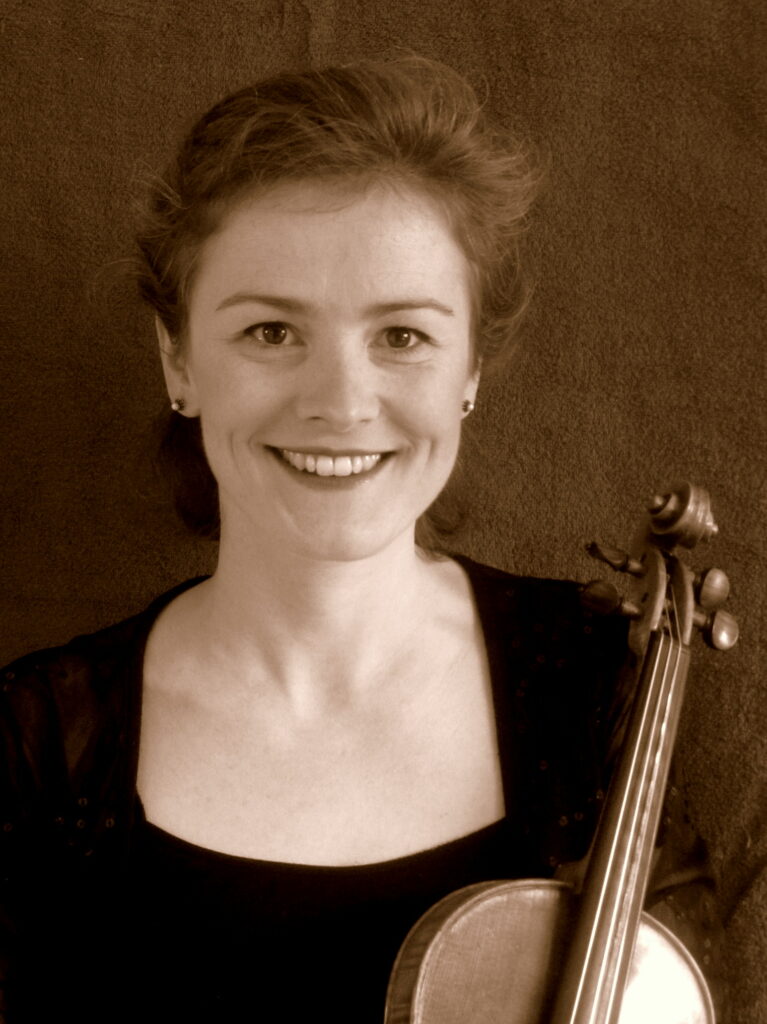 A native of Romania, Eva Kozma began her tenure as the St. Louis Symphony Orchestra's Assistant Principal Second Violin in September 2004.
Studying violin in Romania and at McGill University, Kozma has performed with the Targu Mures Philharmonic and the Societe Philharmonique de Montreal. Additionally, she received a Fellowship at the Tanglewood Music Center and performed with the New World Symphony in Miami before her appointment with the SLSO.
With the SLSO, she considers participating in community and education programs one of the most valuable roles. She enthusiastically participates in SLSO appearances at St. Louis-area schools, hospitals, and other community spaces. As a soloist, she performed Ravel's Tzigane under David Robertson in 2015 and Hubay's Hejre Kati at the 2018 New Year's Eve concert.
Kozma is an enthusiastic chamber musician who performs with small ensembles around the St. Louis region. She is a member of the Chamber Music Society of St. Louis and has performed at the Missouri Chamber Music Festival and the Gesher Music Festival. She also enjoys performing at Westminster Presbyterian Church and teaching children in her neighborhood.
She lives in Olivette with her husband, a talented sculptor, and her three children, all of whom also play string instruments. She enjoys spending time with her family and staying active with outdoor activities, including hiking, biking, camping, and traveling to her native Romania.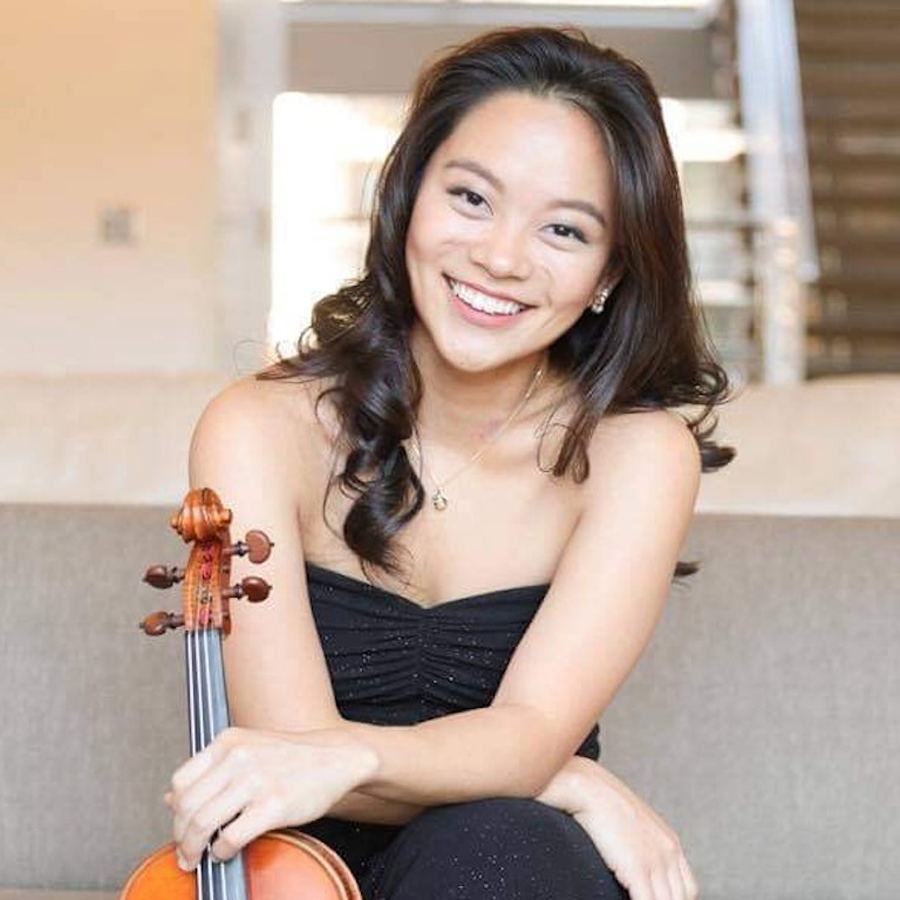 Violinist Hannah Ji joined the first violin section of the St. Louis Symphony Orchestra in 2020 after spending two seasons as a one-year replacement member. Ji's playing has been hailed by critics as "engaging, mature, well thought-out, and honed down to the finest details" (głos na Wieniawskiego, Polish Radio Journal). She holds a Bachelor of Music degree from Curtis Institute of Music, studying with the late Aaron Rosand, a Master of Music degree from The Juilliard School, studying with Ida Kavafian, and an Artist Diploma from The Colburn School, studying with Robert Lipsett. She began her musical studies at age seven in South Korea and previously attended Manhattan School of Music's Precollege Division, studying with Grigory Kalinovsky.
Ji's performances have been widely publicized as a soloist on NPR's "From the Top," Philadelphia's WHYY, Taos' KTAOS Solar Radio, and "Live from Lincoln Center" by PBS, which broadcast throughout North America. She performed in Canada Day concerts with Maestro Pinchas Zukerman in Centre National des Artes, with pianist Jeremy Denk for the non-profit organization "The Art of Giving Back," and a gala concert with cellist Yo-Yo Ma and the Silk Road Ensemble at Lincoln Center. Ji has also performed at The John F. Kennedy Center for the Performing Arts, The Metropolitan Museum of Art, David Geffen Hall, Carnegie Hall, Steinway Hall, Walt Disney Concert Hall, and A. Mickiewicz University Hall in Poland. She has also recently performed at the United States Embassy of Canada.
As a classical and contemporary chamber musician, Ji has collaborated with renowned groups and artists such as Jamie Laredo, Jennifer Koh, Roberto Díaz, The Borromeo String Quartet, The Calidore String Quartet, and Time for Three. She has worked with members of the Borromeo, Brentano, Shanghai, Emerson, Guarneri, and Orion String Quartets, respectively. Ji has actively participated in The Juilliard School's ChamberFest and Focus! Festival, which features U.S. and world premieres of works by composers around the world. She was also a contemporary ensemble artist at Atlantic Music Festival. As an orchestra musician, she served as Concertmaster and Principal Second with Symphony in C, Spoleto Festival USA, YMF Debut Orchestra, The Colburn School, The Juilliard School Orchestra, and Curtis Symphony Orchestra. She has participated in the Sarasota Music Festival, Music Academy of the West, Artosphere Festival Orchestra, Taos School of Music Festival, Bowdoin International Music Festival, Summit Music Festival, and the National Arts Centre's Young Artist Programme.
Additionally, Ji has held Artist Faculty positions at The Danbury Music Centre's Chamber Music Intensive, The Bronx Conservatory of Music, Manhattan in the Mountains, and The Curtis Institute's SummerFest Young Artists Program & Adult Chamber Music Program. She was a substitute faculty member at The Manhattan School of Music Precollege Division. Ji had a large studio in New York City, the students of which have been accepted to conservatories and summer festivals nationwide. She currently enjoys working as a mentor through the SLSO's Mentoring the Music: Peer to Peer program.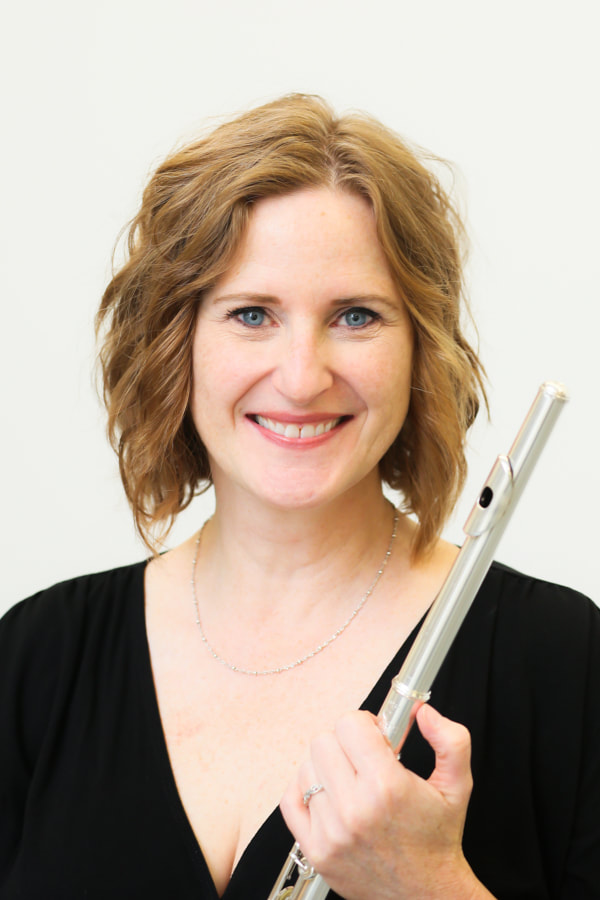 Jennifer Nitchman has held the position of Second Flute with the St. Louis Symphony since 2003. An active teacher, she is on the faculty of Saint Louis University and has appeared as a guest artist and clinician at numerous institutions and flute festivals as well as maintaining a private flute studio in her home.
Ms. Nitchman has also performed with the Boston Symphony Orchestra, Baltimore Symphony Orchestra and Fort Wayne Philharmonic, as well as the Britt and Brevard Music Festivals. She previously held the position of Assistant Principal Flute with the United States Army Field Band in Washington, DC. Jennifer lives in St Louis Hills with her husband and two cats. They are committed city residents who have renovated homes in two different neighborhoods. She also serves on the board of Tenth Life Cat Rescue, which prioritizes saving cats with special needs. You can follow the exploits of her blind cat Stevie on Instagram at @steviepeeperscat. When she isn't playing the flute or trying to get you to adopt a cat, she enjoys cooking, obsessively reading cookbooks, trying to grow her own food and traveling.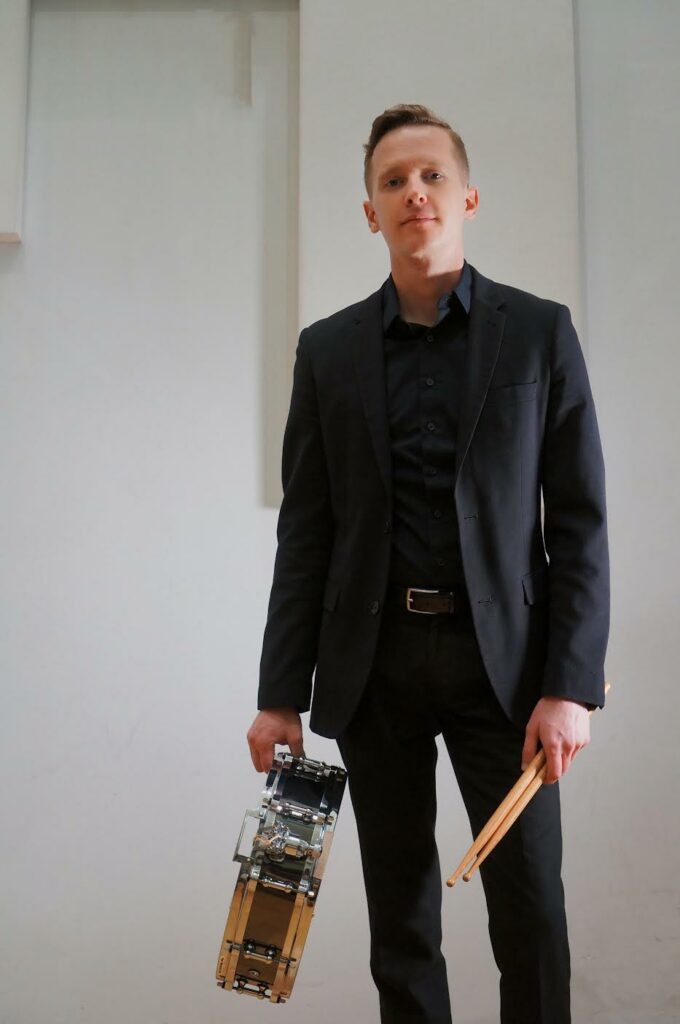 Cleveland, Ohio native Kevin Ritenauer joined the St. Louis Symphony Orchestra as Associate Principal Timpanist/Section Percussionist in the Fall of 2022 following four seasons as a percussion fellow at the New World Symphony in Miami Beach. Mr. Ritenauer is an alumnus of the Manhattan School of Music, the Cleveland Institute of Music and has spent summers as a fellow at the Tanglewood Music Center as well as the Music Academy of the West.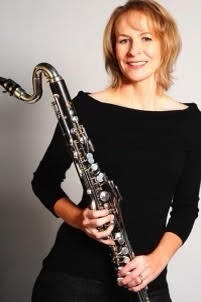 Linda H. Phipps graduated magna cum laude from Webster University in 1995 with a B.M., Clarinet Performance and B.A., Management and attended the University of Cincinnati's College-Conservatory of Music on full scholarship where she received her Master of Music. She continued her education at CCM working on her Doctorate of Musical Arts with a cognate in Arts Administration and was awarded the clarinet teaching assistantship from 1998-2000. Her former teachers include Tina Ward, Ronald de Kant, Ronald Aufmann, and George Silfies.
Ms. Phipps enjoys an active career as a chamber musician, orchestral performer, and teacher. She performs regularly with the St. Louis Symphony Orchestra on clarinet, bass clarinet and contrabass clarinet including the SLSO recording of John Adams' Doctor Atomic Symphony; Guide to Strange Places. She was a featured performer on Classic 99-KFUO FM's From the Garden, Live!, a live radio chamber music broadcast program. Before moving back to her native St. Louis, she held the position of bass clarinet with the Richmond Symphony in Richmond, Indiana, and Principal Clarinet with both Sorg Opera in Middletown, Ohio and Whitewater Opera Company in Richmond, Indiana. In addition, she has performed with Opera Theater St. Louis, Cincinnati Symphony Orchestra, Cincinnati Opera, Dayton Philharmonic, West Virginia Symphony, Lexington Philharmonic, and is second clarinet with the Metropolitan Orchestra of St. Louis.
Linda was formerly an adjunct faculty member with Webster University and St. Charles Community College and maintains an active private studio. Outside of the music world she enjoys being a volunteer with Tenth Life Cat Rescue. She lives in Defiance, Missouri with her husband and sons, Max and Gus and two fabulous cats, Porgy and Bess.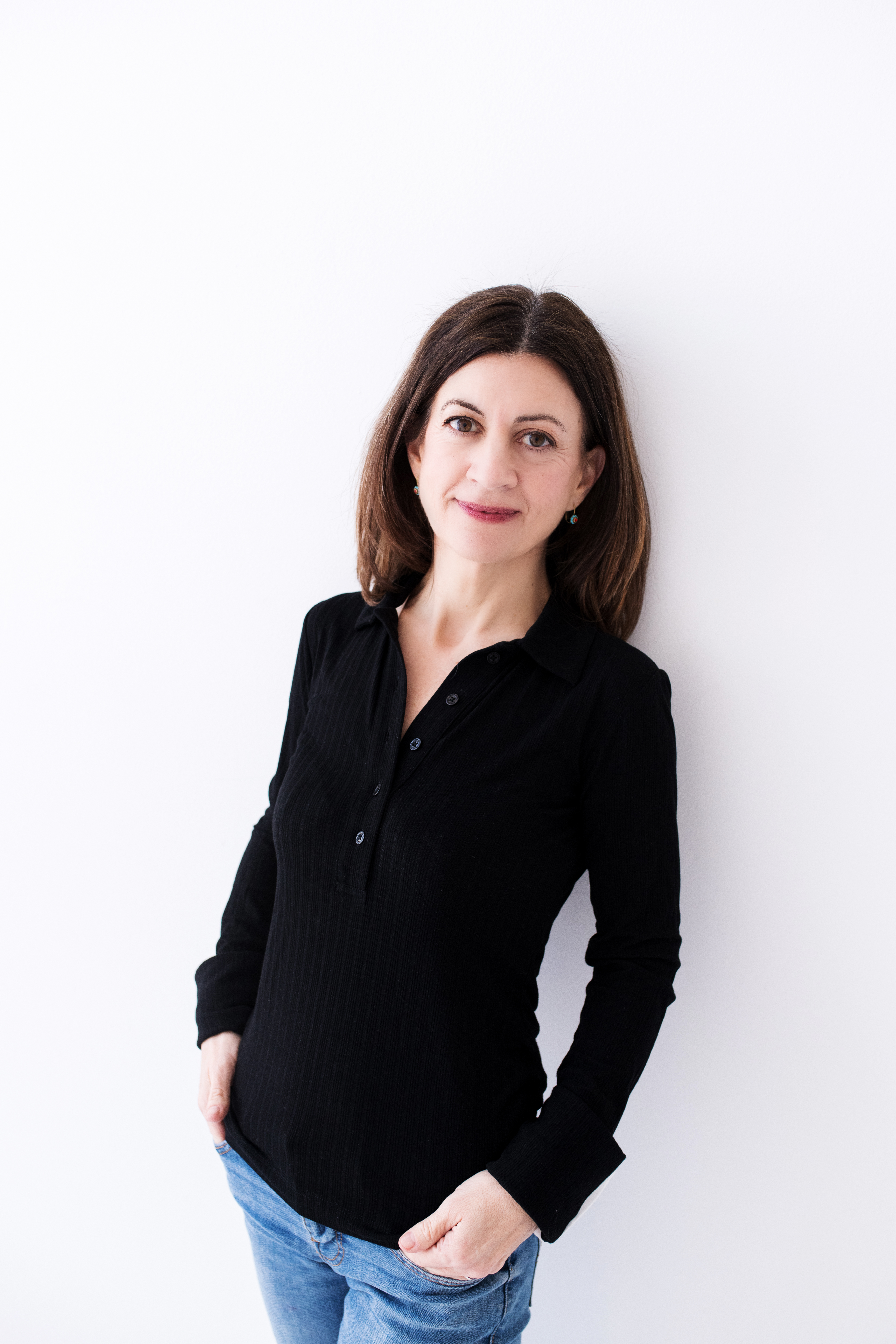 Nina Ferrigno, described by the St. Louis Post Dispatch as "a magnificent pianist," is a collaborative artist at home in a multitude of diverse musical settings.  Her playing is said to be, "…always precise with superb accentuation and warmth of feeling…".  Nina is a founding member of the Boston-based Calyx Piano Trio which excites audiences throughout the United States with expressive ensemble playing and brilliant virtuosity. She has been a featured soloist with such ensembles as the St. Louis Symphony Orchestra, Boston Pops, and the Boston Modern Orchestra Project (BMOP). Recent orchestral keyboard appearances include those with the Chicago Symphony and St. Louis Symphony.
Her festival appearances include those at Tanglewood with members of the Boston Symphony, Banff, Norfolk, and the Skaneateles Festival.  She also appears regularly at the Carolina Chamber Music Festival and Missouri Chamber Music Festival where the Calyx Piano Trio holds residencies.  Ms. Ferrigno is a graduate of New England Conservatory of Music, where she received degrees with distinction.  She is especially committed to bringing classical music to new audiences and expanding the repertoire by working with organizations including Chamber Music America and the  Barlow Foundation to commission and perform new works in a variety of settings.  The New Music Connoisseur has said of her, "pianist Nina Ferrigno [brings] out the inherent horizontal logic…all the while imparting sonic beauty from end to end." Nina is a Founder and Director of the Missouri Chamber Music Festival, now in its 13th Season, in St. Louis. She is on the teaching faculty of Washington University and Webster University in St. Louis.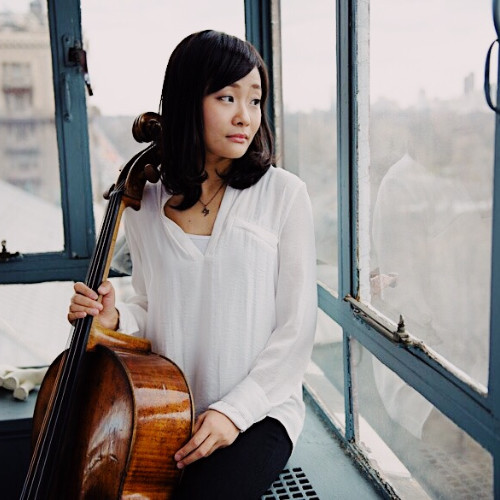 Music Director David Robertson appointed Cellist Yin Xiong to the cello section of the St. Louis Symphony Orchestra at the start of the 2016/2017 season. Yin was awarded notable prestigious prizes from an early age, including the 4th International Tchaikovsky Competition for Young Musicians and top prizes at the 4th and 5th National Cello Competition of China. She won the Hong Kong Academy for Performing Arts concerto competition for an unprecedented five consecutive years. Yin debuted with the Hong Kong Philharmonic Orchestra as a soloist at age 17 under conductor Edo de Waart. She has also collaborated with conductors János Fürst, François-Xavier Roth, and Alexander Shelley.
Her parents – both professional cellists – strongly influenced Yin. As a member of the Academy String Quartet, she represented the Hong Kong Academy for Performing Arts and regularly gave concerts in Asia and Europe.  As part of the Hong Kong-based cello ensemble, Cellistra Yin presented concerts and community engagement activities throughout Asia.  She was the founding cellist of the Hsin Trio, with whom she gave the American debut of the Toshio Hosokawa's Piano Trio, was featured in the Juilliard Open Studio, and gave concerts across the United States and China.
As an orchestral musician, Yin received her first job at the age of 20, joining the Hong Kong Sinfonietta and performing regularly with the Hong Kong Philharmonic Orchestra. Yin has also served as the principal cellist of the Hong Kong Academy Orchestra, and the Oberlin Orchestra, and was co-principal of the Juilliard Orchestra. She was the principal cellist of the Pacific Music Festival from 2006 to 2009, where she had the privilege to work with conductors Valery Gergiev, Riccardo Muti, Christoph Eschenbach, and Michael Tilson Thomas.
Yin was a fellowship student at the Aspen Music Festival and School, where she was part of the Finckel–Wu Han Chamber Music Studio Program. Other festivals include the Kronberg Academy in Germany, Kneisel Hall, Banff Chamber Music Residency, and the Taos School of Music.
As a dedicated music educator and advocator, Yin was a faculty member of the Hong Kong Academy for Performing Arts, Macau Youth Orchestra. She was also a teaching assistant for Professor Darrett Adkins at the Oberlin Conservatory.
Born in Shanghai, China, Yin attended the Shanghai Conservatory and the Hong Kong Academy for Performing Arts on a full scholarship to study with Professor Ray Wang. She holds a Professional Diploma With Distinction from the Hong Kong Academy for Performing Arts and an Artist Diploma from the Oberlin Conservatory. Yin recently graduated from the accelerated Bachelor's and Master of Music program at the Juilliard School, where she studied with Darrett Adkins and Joel Krosnick. She took secondary lessons with Catharina Meints at the Oberlin Conservatory and Phoebe Carrai at the Juilliard School. Besides playing the cello, Yin also enjoys playing the baroque cello and viola da gamba.